[
atmanirbhar bharat news
]
Latest from atmanirbhar bharat
BharOS is a significant step towards developing robust indigenous digital infrastructure in India. Here we have chalked out the key points to understand more about the indigenous mobile operating system.

Updated on Jan 24, 2023 06:40 PM IST
HT News Desk
| Written by Singh Rahul Sunilkumar | Edited by Aryan Prakash
While India's close partners US and France are willing to jointly design, develop, manufacture hardware systems with private and public sector, it is the military-civilian bureaucracy tribe that cannot make up its mind and is running round in circles

Updated on Jan 09, 2023 12:05 PM IST
Narendra Modi said in the eight years of the NDA government, about 5,000 new ITIs have been established in the country. Over 4 lakh new seats have also been added in ITIs

Updated on Sep 17, 2022 04:19 PM IST
In May the Indian Coast Guard commissioned its second ALH Dhruv Mark III squadron - to be based out of Kochi in Kerala.

Updated on Jun 28, 2022 11:21 AM IST
The article has been authored by Konda Chavva, officer-in-charge, FAO Representation in India.


Published on May 27, 2022 04:50 PM IST
Prime Minister Narendra Modi and President Joe Biden, who met in Tokyo on the margins of the Quad Summit, reviewed progress under the bilateral comprehensive global strategic partnership

Updated on May 25, 2022 01:49 AM IST
Rajnath releases 3rd list of weaponry to be banned for import to boost self-reliance in defence manufacturing

Published on Apr 07, 2022 02:51 PM IST
The nature of the threat to India's strategic autonomy has changed since the time of Independence but India's strategic choices bear uncanny similarities with the past. As the Russia-Ukraine war rages, we have chosen to become non-aligned Nehruvians once again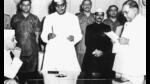 Updated on Apr 04, 2022 08:09 PM IST
Once the phased import ban kicks in, the 107 strategically important line replacement units sub-systems will only be procured from Indian industry

Updated on Mar 24, 2022 07:49 PM IST
The study has been authored by Dr.Suresh Munuswamy, MBBS from Madras University, MPH from Oxford Univrersity, PhD from Tokyo University; Associate Professor, Indian Institute of Public Health-Hyderabad

Published on Dec 16, 2021 03:28 PM IST
Public Health Foundation of India
The PM SVANidhi scheme was promulgated on June 1, 2020, to empower street vendors who were reeling under losses incurred during the coronavirus pandemic. It intends to facilitate collateral-free working capital loans of up to ₹10,000 for one year to approximately 50 lakh street vendors.

Published on Dec 11, 2020 05:32 PM IST
Hindustan Times, New Delhi |
hindustantimes.com | Edited by Ayshee Bhaduri