Latest from facebook video
Facial recognition software - used by Facebook and others - has been blasted by civil rights advocates who point out problems with accuracy, particularly it comes to people who are not white.

The video of firefighters of Austin Fire Department rescuing the squirrel prompted people to share appreciative comments.
The video was shared on Winchester Police Department's Facebook profile.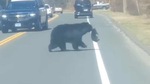 "Omg!" wrote a Facebook user while reacting to the video.

"Awesome," wrote an Instagram user while commenting on the post.