Latest from home of folk art
India's art represents its rich cultural diversity, which includes over 2,500 tribes and regional groupings. Check out some of the most incredible tribal and folk art forms of India.

Updated on Nov 06, 2022 05:29 PM IST
Growing urbanisation takes a toll on Mandana paintings. Once a popular folk art, that used to adorn mud walls of homes in rural Rajasthan is quickly disappearing.

Published on Oct 25, 2022 06:38 PM IST
PTI | | Posted by Akanksha Agnihotri
Tribals are unabashedly fashionable people and their art reflect the same dynamism, he says, as he points to the several art pieces around him.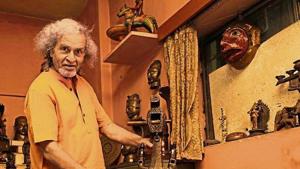 Published on Jul 07, 2019 12:28 AM IST
Gurugram |
By
Kankana Roy Jain