Latest from winter session
The cumulative solar energy capacity at the end of 2019-20, 2020-21, and 2021-22 was at 34,627, 40,085, and 53,996 mega watts, respectively.

Published on Dec 25, 2022 10:11 PM IST
ANI | | Posted by Singh Rahul Sunilkumar
Ruckus continued in Parliament even on the last day.

Published on Dec 23, 2022 12:05 PM IST
Bharatiya Janata Party and opposition members in Rajya Sabha sparred over certain remarks made by Congress president Mallikarjun Kharge in Rajasthan's Alwar, with treasury bench members seeking an apology from him for the "foul" comments.


Updated on Dec 20, 2022 11:19 PM IST
The December 9 Yangtse clash between Indian and Chinese soldiers in Arunachal Pradesh's Tawang sector turned the spotlight on the lingering border tensions between the two countries.

Updated on Dec 19, 2022 11:03 PM IST
A week after the winter session of Parliament started, senior leaders across parties have informally discussed a proposal to end the session before Christmas, with many lawmakers citing festivities and the demand for their presence in respective constituencies during Christmas and New Year.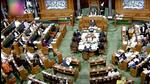 Updated on Dec 16, 2022 04:26 AM IST