Prince Harry recalls Meghan Markle's 7-word retort to William amid meeting
Jan 14, 2023 06:12 PM IST
Prince Harry-Meghan Markle: "'It's rude, Meghan. It's not what's done here in Britain,'" Prince William reportedly said.
Following Meghan Markle's comment on Kate Middleton, Prince William and her had a face-off, Prince Harry recounted in his memoir Spare. The encounter is among the moments detailed in Prince Harry's memoir Spare in which the Duke of Sussex claims that his wife asked Prince William to get his finger out of her face during a heated argument.,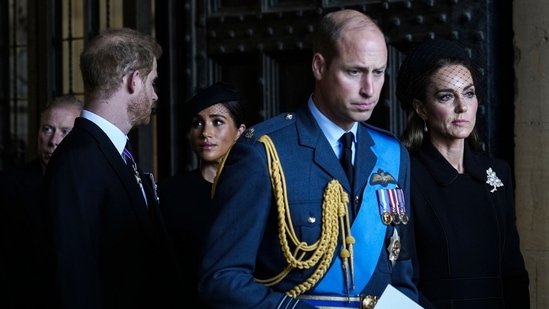 Watch: Prince William's 'cute' reaction when he realises his outfit matches Kate
Recalling the incident, Prince Harry wrote that Kate Middleton asked Meghan Markle for an apology for hurting her feelings. When his wife said she was unaware of what Kate was saying, the latter brought up a phone conversation where Meghan Markle commented on Kate's hormones. In the phone call, the pair discussed the timings of wedding rehearsals.
"Meg said: 'Oh yes! I remember: You couldn't remember something, and I said it's not a big deal, it's baby brain. Because you'd just had a baby. It's hormones,'" Prince Harry recalls.
Read more: This is how Prince Harry and Prince William dealt differently with Diana's death
"Kate's eyes widened: 'Yes. You talked about my hormones. We're not close enough for you to talk about my hormones!' Meg's eyes got wide too. She looked genuinely confused. 'I'm sorry I talked about your hormones. That's just how I talk with my girlfriends'," he further wrote. Prince Harry then claimed that Prince William stepped in and "pointed at Meg".
"'It's rude, Meghan. It's not what's done here in Britain,'" Prince William reportedly said.
To which Meghan Markle replied, "Kindly take your finger out of my face."
"Was this really happening? Had it actually come to this? Shouting at each other about place cards and hormones? Meg said she'd never intentionally do anything to hurt Kate, and if she ever did, she asked Kate to please just let her know so it wouldn't happen again," Prince Harry then wrote.