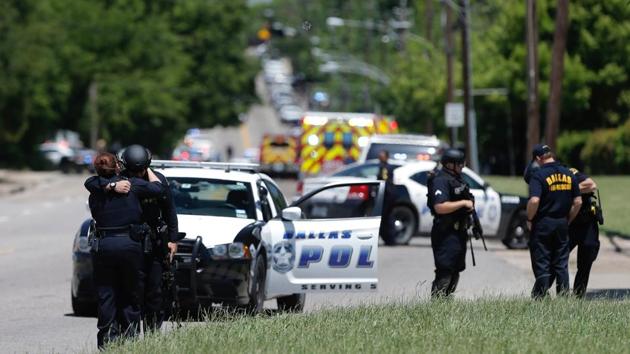 US shooting: Dallas paramedic shot, scene still 'dangerous', say police
Authorities say a Dallas paramedic has been shot while responding to a shooting and that the scene remains active and dangerous.
UPDATED ON MAY 02, 2017 01:44 AM IST
A shooting scene remains active and dangerous after a paramedic was shot and critically wounded while responding to a shooting Monday near a firefighter training facility, Dallas police said.
Officers were responding around 11:30 a.m. when a Dallas Fire-Rescue EMT unit was struck in a neighborhood just east of downtown, according to a statement released by the city. A paramedic was shot, rushed to a hospital and went into surgery Monday afternoon.
Police said the paramedic, whose name hasn't been released, was in critical condition.
The shooting occurred near the Dolphin Road Fire Training Academy just east of downtown. Dozens of police vehicles have swarmed the mostly residential area.
"The entire area is still active and very dangerous," police spokesman Warren Mitchell said in an email, adding that it was unsafe to allow media into the area. Several people from a nearby neighborhood and some relatives of people who live in the barricaded area gathered at a nearby gas station to await updates from police.
No details have been released about the shooter or what may have sparked the incident.
The Dallas Police Association tweeted earlier Monday that officers responding to an active shooter were "pinned down" by gunfire.
FBI agents and officers with the Bureau of Alcohol, Tobacco, firearms and Explosives also were in unmarked vehicles waiting at intersections in the neighborhood. Officials from the local fire department and parks department passed out water and Gatorade to officers blocking the roads.
Phone and emails messages from The Associated Press seeking further details about the incident weren't immediately returned by Dallas police and the Dallas Fire Department.
Close