Assembly elections 2018: Voting brisk in Rajasthan, Telangana after a slow start
The voting for Rajasthan and Telangana assembly election started at 7am in Telangana and at 8am in in Rajasthan. It will end at 4 pm in 13 Maoist-affected seats in Telangana and at 5 pm in the rest of the state and Rajasthan.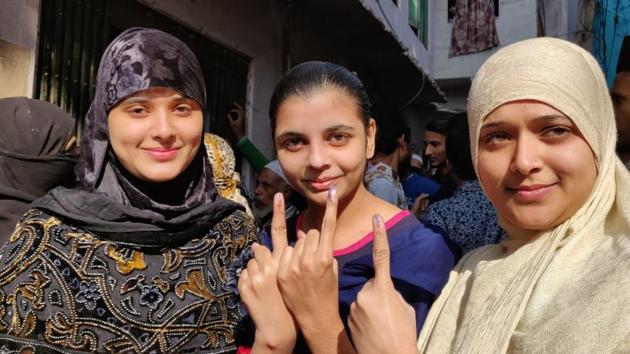 Updated on Dec 07, 2018 04:03 PM IST
Rajasthan recorded a voter turnout of 59.41% till 3 pm and Telangana 56.17% till the same time in the assembly elections in the two states on Friday, the election commission said.
More than 4.74 crore people are eligible to vote in Rajasthan and there are over 2.8 crore voters in Telangana to choose from 2,274 and 1,821 candidates in 199 and 119 constituencies, respectively.
The voting started at 7am in Telangana and at 8am in Rajasthan. Assembly elections are being held in Telangana for the first time since its formation in 2014.
Click here for Rajasthan election 2018 Live Updates
There were reports of electronic voting machines or EVMs malfunctioning in polling booths 253 and 254 in Ahor constituency of Rajasthan's Jalore. Voters created a ruckus at the two polling booths after voting was stopped following the malfunction.
An EVM was replaced at polling booth 172 in Bikaner's Kisamidesar following a technical issue.
In Sikar's Fatehpur town, vehicles were vandalised and set ablaze after a clash between two groups at a polling booth, reported ANI. Voting was affected for about 30 minutes due to the violence but resumed after police chased away the miscreants.
Age was no bar for voters in the state. In Jodhpur, 114-year-old Dakha Devi, along with her 90-year-old daughter, Birmi Devi, arrived at a polling booth in Barkatullah Khan stadium to vote. 101-year-old Pali Devi cast her vote at Baldev Nagar polling station in Barmer city.
A 97-year-old man, identified as Nagender Singh Chouhan and his 85-year-old wife Yuvraj Kuwar cast their votes at a polling station in Jhalawar, while in Kota south, a 97-year-old woman, identified as Basanti Bai,reached the poll booth with the help of a volunteer who carried her in his arms.
Click here for Telangana assembly election 2018 Live Updates
In Telangana, stone pelting allegedly by Bharatiya Janata Party workers on Congress candidate Ch Vamsichand Reddy was reported in Kalwakurthy constituency of Ranga Reddy district's Amangal. Reddy was shifted to Hyderabad for treatment after he was injured.
The who's who of Hyderabad turned out to cast their votes.
In the Jubilee Hills area of Hyderabad, the Telugu film industry's leading stars such as Chiranjeevi, Nagarjuna, and Junior NTR stepped out early in the morning to exercise their franchise. Tennis star Sania Mirza voted at Film Nagar Cultural Centre but badminton player Jwala Gutta complained that she could not find her name in the voters list.
In Telangana, the Congress has formed an alliance, Praja Kutami (Peoples Front), along with the Telugu Desam Party (TDP), the Telangana Jana Samiti (TJS) and the Communist Party of India (CPI) to take on the ruling Telangana Rashtra Samithi (TRS) led by caretaker chief minister K Chandrasekhar Rao, who is popularly known as KCR. The TRS, seeking a second term in office, is going alone, as also the BJP.
Counting of votes in both states will be held on December 11, along with Chhattisgarh, Madhya Pradesh and Mizoram.
Close Story