Wedding Special: What's the well-dressed bride wearing in 2016?
Published on Sep 24, 2016 03:25 PM IST
Is Red really hot? Or will the Bride in Blue turn more heads? India's top designers and fashion experts tell you everything.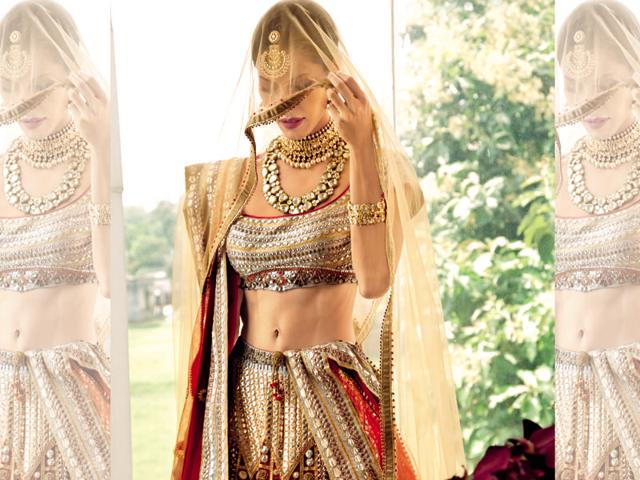 It's the season of the big fat Indian weddings. Love is in the air and so is bridal style. This is the culmination of months of planning, dozens of shopping trips, a few trials and many sighs. Not to mention hundreds of hours of hand embroidery, metres of crinoline, sparkles of Swarovski and showers of sequins. The result is a stack of outfits that must serve half a dozen functions.
So what's the well-dressed bride wearing in 2016? India's top designers and fashion experts tell you everything: from the colours, to the styles, to the jewellery. If you haven't already ordered the bridal lehenga, read on to know what you should. If you have, read on to see how you should wear it, and with what.
Lighter, faster, easier
It wasn't long ago that brides were weighed down by the sheer mass of their wedding outfit. Lehengas could weigh up to 15kg, and the bride who spent the evening with her head lowered, wasn't just following traditional mores.
That's not the case any longer. Brides want something different. "Brides want to twirl, dance, have a glass of champagne. They want to have fun at their own wedding," says designer Suneet Varma. "Brides come in and look at panels of embroidery and want to use only half of it."
It's not only that brides want to have fun at their weddings, there's also the practical consideration of destination weddings. These are very much in vogue, but the one challenge of the destination wedding is baggage allowance. Do the math.
The silhouettes
Comfort has become paramount, says Mohit Rai, former fashion director of Harper's Bazaar Bride and creative director at MRStyles, who consults with magazines, brands and celebrities. "Silhouettes and ensembles are reflecting that need and thought in the market. That's why lehenga saris and lightweight lehengas are current favourites." Ghararas are making their presence felt because of the bifurcated ease of movement. (And a little fillip from Deepika Padukone in Bajirao Mastani.)
Red is back…
(Though you might want to look at emerald green and dark blue as well.) Let's get this out of the way. You can't really divorce the Indian wedding from red – red never went away. But if you wore the hue, you were a traditionalist. So if you were in the least bit fashion forward, you picked pale peach or pretty pink or gold or champagne (and these still remain popular).
But now red is back. The pendulum has swung back towards all things traditional, in fact, very Indian (more about that shortly). "Strong red is back," says designer Sabyasachi Mukherjee. So is fuchsia pink. And the way to wear it is head to toe. It doesn't just draw all eyes, it also elongates the silhouette and, wonderful side effect, makes the bride look taller and slimmer.
The India story
Indian fashion has seen a shift towards a handloom-driven wardrobe over the past few years and this is reflected in the emergence of brocade in bridal wear. Brocade is having a moment, says Tina Tahiliani Parikh, executive director of Ensemble, the country's first multibrand designer retail store, which recently expanded to include a bridal studio.
Varma agrees. Historically the fabric of the nobility, brocade, woven with gold and silver threads, (trivia: it's known as kinkhaab) has both shine and depth. And that makes it perfect for an event where drama is prime, but a sense of rediscovering India is taking root.
Tarun Tahiliani showed draped brocade, Sanjay Garg has been a flagbearer, and younger designers Payal Khandwala and Abhishek Gupta showed it as well. Tahiliani Parikh says a fresh way to wear brocade is paired with metallics. "Brocade and metallics – like a metallic copper top or a metallic silver top – is a new combination." Or follow Varma's suggestion, mix brocade with other fabrics, a georgette blouse, for instance.
Mini trend alert: "Weddings have become polarised," says Mukherjee. "They are either holistically Indian or totally western." What does that mean?
If the bride goes Indian, she'll go the whole nine yards from décor to music to flowers to menu. It will be reflected in her jewellery, her kajal, her outfit. That means you'll no longer find Thai food, French décor and an elephant, all at one wedding.
The gown goes mainstream
There's nothing new about the presence of the gown on the cocktail night or the friends' party. It's been there for at least half a dozen years. But what is new is the speed with which it is taking hold. "The gown finds a new customer every season," says Mukherjee. "It has become very mainstream." What was once a totally western concept is now de rigueur not only in every bride's trousseau but also in every guest's.
"Never before have you seen so much choice in the market," says Mohit Rai. While the most common route to enter the fold is via the anarkali gown, thankfully people are exploring other avenues as well. "What's new is that brides are embracing femininity with cutouts, one shoulder styles, and deep backs," says Rai.
The trail makes an entrance...
Brides want their flounce, they want their pouf, they want their drama. And two ways they are adding drama to their outfits is with trails and with crinoline. "Trails are a big trend," says Varma. They not only work on lehengas and gowns, he's even seeing them on shararas. As for crinolines, it's the main underpinning of the structured yet voluminous lehengas in vogue. Layers under the skirt big it up quite differently from metres of fabric. And that's a trend that's not going away anytime soon. How else do you get a bride who's larger than life?
Play it by nose
When it comes to jewellery, size does matter. Whatever lightness brides might want in their ensemble goes out the window when it comes to the adornment. Bigger is better. "Jewellery is big," says Tahiliani Parikh. And one piece that is having a revival of sorts is the nath.
Over the past few years the nose pin has been one of the biggest selling pieces of jewellery across India, so it seems a natural progression that the nath, the big ornamental nose ring, should find itself back in favour. On the designer front, it appeared on the horizon ever since Kishandas & Co for Mukherjee was launched two years ago. The designer confirms that the big nath is one of the hottest pieces of jewellery now. (The matha patti is a close second). His advice for jewellery. "Stay either traditional or go iconic."
Nishat Fatima is the former editor of Harper's Bazaar India and is currently pursuing life as a photographer in Hyderabad
From HT Brunch, September 24, 2016
Follow us on twitter.com/HTBrunch
Connect with us on facebook.com/hindustantimesbrunch
Close Story
Personalise your news feed. Follow trending topics