Will 2019 be a wave election or an election driven by silent voters?
Many people may have decided not to open up to pollsters or journalists about their preferences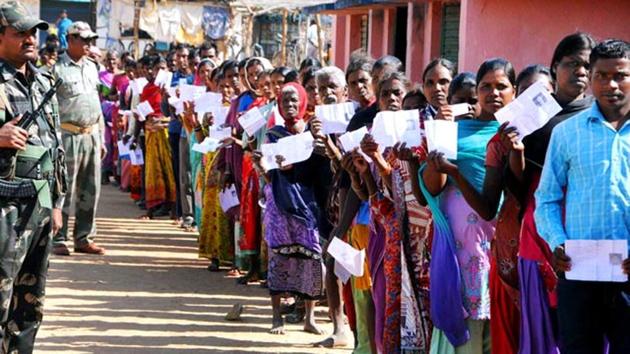 Published on May 03, 2019 06:20 PM IST
It took a young student of mass communication in Lucknow to point out what is missing in the opposition campaign in these elections. "Phir ek baar Modi sarkar" (Once more, Modi government), she told me, "is a message with easy and immediate recall". By contrast, she argued, making it a point to underline that she is not a fan of the prime minister, the Congress narrative on Nyay was "too amorphous and complex" for it to percolate and amplify. "I had to watch it three times," she said.
There is no doubt that a combination of factors — Narendra Modi's personal popularity, the larger national security narrative, a divided opposition that has been attacking each other in public, the absence of a central and accessible face or idea on the other side — means that all the volubility in this election belongs to the Modi voter.
Apart from the BJP's committed voters, the only other noise on the ground, in the heartland at least, comes from the Mayawati-Akhilesh Yadav gathbandhan (alliance) supporter. Travelling through Uttar Pradesh, this week, it was intriguing to see an almost perfect cohesion between the political workers of both parties at joint rallies and sabhas. When I pushed them to identify their party — Bahujan Samaj Party (BSP) or Samajwadi Party (SP) — they demurred, insisting that they were loyal only to the alliance. The mere suggestion that Mayawati may switch sides to Modi after the elections drew rage at us for even thinking the thought. And though the Congress' Priyanka Gandhi Vadra courted controversy with her comments that weaker candidates of the party would tactically cut into the BJP vote base, the Congress did not appear to be top of the mind for the anti-BJP voters we met. Muslim voters especially seem to have rallied behind the alliance in the belief that a vote to anyone else is a wasted vote.
But other than the assertive political workers of the BSP-SP, this has been a very unusual election to report on. Despite his popularity, there is no palpable euphoria or wave for Modi — at least not in the way that the mass support for him had electrified the campaign in 2014. The elections are so low-energy they are almost drab and dull. Yet, anecdotally speaking, randomly drawn conversations with voters on whom they will support, invariably drew the answer in favour of the BJP and Modi. Even in Amethi, the Gandhi family bastion, I met several voters who were ready to switch their vote from the Congress to the BJP, reconfirming the BJP strategy to play for margins in Rahul Gandhi's home turf.
This time, the near absence of all other vocal voices — a typical Indian election is usually about varied opinions, debate, disagreement, passionate advocacy for one or the other party — has me wondering: Is there a silent voter out there?
Frankly, even in 2014, when the surge of support for Modi was palpable, one met so many more voters willing to contest his arguments and challenge the BJP's beliefs. Not just did it make for more interesting reportage; it also reinforced the fact that the checks and balances of India's parliamentary democracy were well and healthy. By contrast, this is the contradiction of the 2019 election: there is no visible wave; yet (apart from the gathbandhan supporters) an overwhelming majority of people only speak about voting for Modi.
There are only two ways to understand this phenomenon. Either, contrary to our superficial reading, this is a wave election. And the reason that there is no sense of a typhoon lashing at our shorelines is because unlike in 2014, when the vote was also born from anger and rage against the Congress-led United Progressive Alliance 2, this time there is no one being thrown out by the electorate. If this is the case, there is a quiet undercurrent for Modi and it is transcending the caste arithmetic of the opposition. It also means that our parliamentary elections are fast becoming presidential in nature.
Alternatively, it could mean that this time many voters have decided not to open up to pesky strangers — either pollsters or journalists — about their political preferences. So, they are either giving us the set piece answers that they think are expected from them and fit in with the dominant narrative. Or they are not telling us what they are thinking at all. We also do not have any way to measure how much of a factor NOTA may be in closely contested battles. If there is a silent voter, we do not know what this silence is born from: fear, peer pressure or privacy. In this scenario, any disillusionment with the incumbent government may be quietly simmering under the surface and could surprise both the BJP and the opposition.
In the contest between Modi versus Maths, so far the former appears to be well ahead. If the maths has any chance of trumping his chemistry, the voters who can make this happen are eerily silent.
Barkha Dutt is an award-winning journalist and author
The views expressed are personal
Close Story
Personalise your news feed. Follow trending topics