'Emphasis on part-time wicketkeepers unfortunate, affects quality'
The likes of Jonny Bairstow and Quinton de Kock are considered best in the business because of the runs they produce and the situation is no different in India, with the BCCI rotating between wicketkeepers based on their ability with the bat, not behind the stumps.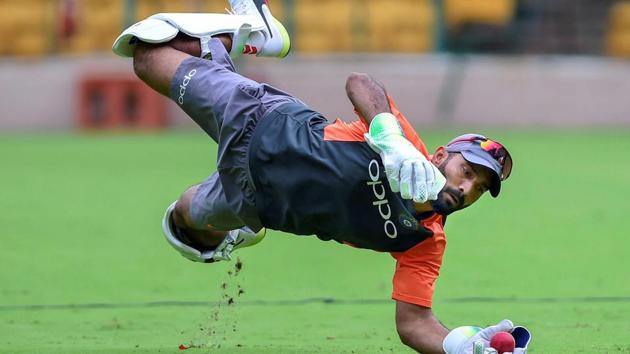 Updated on Jul 21, 2018 10:14 AM IST
MS Dhoni's long stint with the Test team gave India selectors time to spot a worthy successor as wicketkeeper. Wriddhiman Saha nudged ahead of Naman Ojha because of a more classical approach to the art of keeping wickets.
His injury though has exposed the India team management's myopic vision as they have had to fall back on Parthiv Patel and Dinesh Karthik, both discarded when Dhoni arrived in the mid-2000s.
In a crucial year of Test tours, India have already fielded three wicketkeepers in the space of four Tests since January.
If that wasn't bad enough, the selectors have picked young Rishabh Pant as backup for Karthik for the England Tests. With a Ranji triple century in his kitty, it comes as no surprise Pant is being tested as a potential India stumper.
ALSO READ | I tied up with Middlesex given their cricket history: Sachin Tendulkar on academy
It remains to be seen how these random selections affect India's long term plans. However, former India stumper and World Cup winner, Syed Kirmani, feels the competition is taking a toll on quality.
"You miss out on one or two innings and you are out of the team. They are making all batsmen makeshift wicketkeepers. Unfortunately, that is how the selection team is thinking. It reflects on their inexperience," Kirmani, also a former chief selector, said from Bangalore.
This is not a one-off thing. The likes of Jonny Bairstow and Quinton de Kock are considered best in the business because of the runs they produce, not how safe they are behind the wicket. Proliferating T20 leagues too have strengthened the concept of getting a batsman to keep wicket.
"It's a phenomenon world over. There is too much cricket. Players have no rest at all. All these injuries are happening because there is no particular technique wicketkeepers are following. If you don't have that, you can't last long," Kirmani said.
ALSO READ | MS Dhoni still listed as India skipper on BCCI website, Twitter laughs at gaffe
Saha is out with a shoulder injury – not specified by BCCI when naming the squad for the first three Tests in England – after suffering a hamstring strain in South Africa and then fracturing his thumb during IPL.
The Decision Review System (DRS) needs inputs from wicketkeepers, and his role has thus expanded manifold. Kirmani feels this is why Dhoni remains India's best choice. "The keeper is the best judge of the game. He is the best guide for the bowler and is the right person to set the field.
"I was so excited when MS Dhoni was appointed captain. And he proved himself so well. That is why I say lay off Dhoni. His experience gives the team a unique edge."
Pant's selection suggests specialist wicketkeepers may not get the nod easily in the future. Consistent scores or pinch-hitting is a must to stay in contention.
ALSO READ | 'Expect competitive Test series if ball doesn't swing' - Graeme Swann
Kirmani feels the rot sets in at state level. "The selection pattern is that they don't want a specialised keeper. They want an additional all-rounder who can stop the ball.
"The first one to take that place was Rahul Dravid (2003 World Cup). Even KL Rahul is keeping wicket nowadays. Right now, all the state associations are choosing wicketkeepers like that."
Close Story