Playing for patriotism on Republic Day
For members of the Scindia School band, playing at the Republic Day parade is a matter of great pride, and regular practise keeps them disciplined too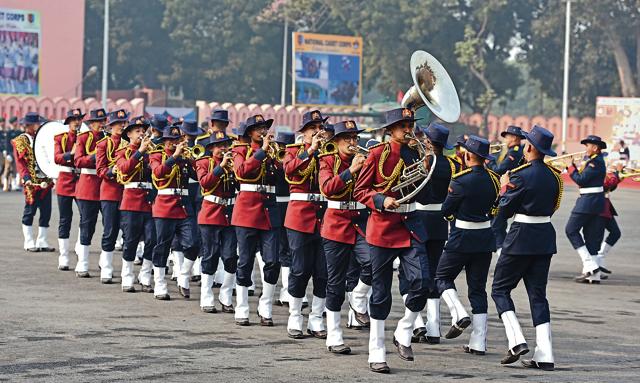 Updated on Jan 20, 2016 12:01 PM IST
India's Republic Day is a joyous and festive occasion, made solemn too because of remembrance and honouring of acts of valour and sacrifice by the bravest and most valiant of its people .
Participating in the Republic Day parade is, therefore, something that many school students look forward to. Braving the winter chills, hours of practice with their bands, delicately working out the balance between trials, rehearsals and studies is not easy but many youngsters manage things expertly. HT Education chased a few bands to find out more about how they are prepping up for the big day.
The Scindia School, Gwalior, with its contingent of 45 students will be a part of the main Republic Day parade in the Capital. "Many students, all of whom are part of the National Cadet Corps, have attended the camp at least two to three times. They are also privileged to have given the guard of honour to dignitaries," says Dr Madhav Deo Saraswat, principal of the school.
Scindia students have been participating in the Republic Day Parade since 1973. Most of those who are selected for the military band are from classes 7, 8, 9 and 11. They have to dedicate as many as seven hours every day for practise: in the morning, after lunch and dinner. Some are even made to report for 'duty' during the winter and summer vacations. They play patriotic music and martial tunes, says Ramesh Sharma, bandmaster, of the school.
At any given point of time, there are 100 to 110 boys ready to perform, he says.
Students say that the rigorous practise regime teaches them to be punctual, inculcates discipline and helps them learn how to balance time between academics and co-curricular activities. "But most important is the sense of pride we get by participating in the Republic Day parade," they say.
Besides January 26, students who are part of the military band get to participate in several intra-school competitions such as the Indian Public Schools Conference, which is a prestigious annual event.
Most schools ensure that students spend a lot of time practising with their bands. Captain A J Singh, principal, Pinegrove School, Solan, says his students in the brass band generally practise for 40 minutes every day, but during inter-school competitions the time stretches to over four hours before the main competition. Most schools encourage students to start young and they have to be "strong enough" to blow into the instrument. That's why most of the band members are selected from Class 7 onwards as they then get about six years on the instrument before they finally leave school.The school band at Lawrence School, Lovedale, Ootacamund, is part of the school heritage which is almost 130 years old. "We even have student buglers who wake up the school during the founder's day month held between April and May," says Sangita Chima, principal.
Madhav Nair, band major of the school's brass band says that they get to practise between 2.30 pm to 3.30 pm every day. "I've been part of the school band for the last five years and can play the bugle, the drums and, euphonium, trombone, cornet and the saxophone. We practise patriotic music such as kadam kadam, sare jahaan se accha etc. During competitions we spend around five to six hours of practise. The band room is open for us throughout the day."
Being part of the band has taught these students a thing or two about punctuality and even leadership skills. "It has taught me how to approach each individual differently, everybody takes time to get used to an instrument and needs a friendly atmosphere to be able to perfect a melody or a tune," says Nair.
Close Story
Personalise your news feed. Follow trending topics