Neena Gupta says she is a 'chuha', calls herself 'most conventional person': 'Just because I had a baby out of wedlock…'
Jan 03, 2023 09:58 PM IST
Actor Neena Gupta called herself a 'chuha (mouse)' adding that she didn't live her life on her own terms. She also spoke about her daughter, actor and fashion designer Masaba Gupta.
Actor Neena Gupta has said that she is not a rebel but a 'chuha (mouse)' while responding to a question about people calling her the former. In a new interview, Neena said that 'just because' she had a baby out of wedlock people started calling her 'brave'. The actor also joked as she gave a headline that will come out after her death. She also said that she didn't live her life on her own terms. (Also Read | Neena Gupta recalls how director gave her 'maa behen ki gaali' in front of Juhi Chawla, Vinod Khanna)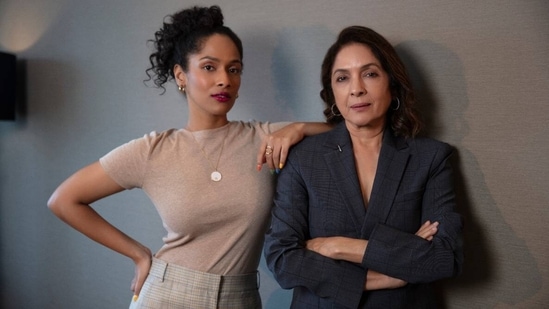 Neena and former West Indies cricketer Viv Richards had Masaba Gupta out of wedlock in 1988. Both Neena and Viv have lived separately throughout their life. In 2008, Neena married Vivek Mehra. Her daughter Masaba, who is also an actor and fashion designer, is currently dating actor Satyadeep Misra.
In an interview with Brut India, Neena said, "I'm not a rebel, I'm a chuha (mouse). I'm not unconventional, I'm the most conventional person right now. Just because I had a baby out of wedlock, which millions of women have in India and out. But the media made me into, 'Ah, brave'. After my death, the headline will come, 'Neena Gupta who lived life on her own terms passes away'. I did not."
Talking about her parents' reaction when she wanted to take up acting as a career, Neena added, "They were against it. My mother was a double MA herself at that time. She used to look down upon Hindi films, she would only go to international film festivals and see English films. And when I said [I wanted to act], she like died. She said, 'No way'."
Speaking about the year when Masaba was born, Neena said it was 'very strange because it was so much happiness and so much unhappiness'. She said that she was very happy to have Masaba but the 'whole media and everybody, they made my life miserable'. Neena added that she chose to only keep the good people in her life.
Neena was last seen in the psychological thriller Vadh. Sanjay Mishra, who is known for his comic roles, was seen portraying a serious character in this film. Written and directed by Rajeev Barnwal and Jaspal Singh Sandhu, the film hit the theatres on December 9, 2022. Produced by J Studios and Next Level Productions, the film is presented by Luv Films' Luv Ranjan and Ankur Garg.