Yeh Rishta Kya Kehlata Hai written update July 26: Abhimanyu gets angry on learning Akshara missed her auditions
Published on Jul 26, 2022 08:54 PM IST
Yeh Rishta Kya Kehlata Hai written update July 26: Abhimanyu gets to know that Akshara missed her auditions. After overhearing that she is putting her career on hold, he gets angry.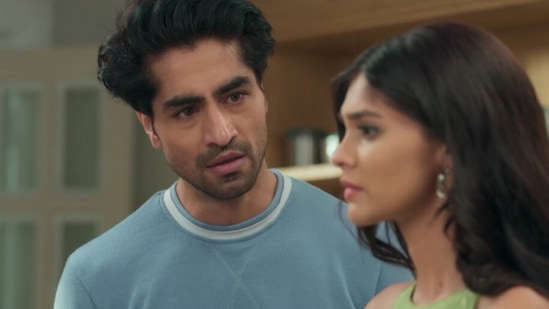 In this episode of Yeh Rishta Kya Kehlata Hai, Abhimanyu finds out about Akshara's decision to put her career on hold. He will get angry with her decision and their relationship will again stand at a crossroads. Read this article to know more. (Also Read | Yeh Rishta Kya Kehlata Hai written update July 25)
Suhasini gets overwhelmed
After a long wait, Harshvardhan finally joins the hospital back. Anand and Harshvardhan discuss the issues with the management at the Birla Hospital. They both worry about Abhimanyu and his absence at the hospital which is bound to cause more problems for the hospital. Abhimanyu plans a nice surprise for Akshara and recalls all the accidents that made him lose his career and gets worried again.
Akshara comes to call him as the Goenkas arrive to meet him. She seems worried as if some new problem is arriving in their lives. Turns out, that Suhasini has called a man to perform rituals for Abhimanyu's safety. But he sends him back as he believes in his treatment. Suhasini feels embarrassed and starts crying. Abhimanyu comforts her and everyone has a good laugh.
Abhimanyu gets angry at Akshara
Kairav is talking with Abhimanyu about his work and they both recall Akshara's missed auditions. Akshara gets a call for her appointment, but she refuses to go. Abhimanyu and Kairav insist she focus on her career and not worry about Abhimanyu. In the hospital, Akshara gets busy with her work but her mind remains focussed on Abhimanyu. She remembers how peaceful Abhimanyu used to feel after his work so she plans to get him involved in hospital affairs with the help of Dr Rohan.
As she comes back home, she gets a call from Kairav asking why she missed her auditions. She tells Kairav about her decision to keep her dreams on hold until Abhimanyu gets better. Unfortunately, Abhimanyu overhears her conversation and gets angry with her. He tells her that she doesn't need to sacrifice her dreams for him and that abandoning her dreams would hurt him more than him losing his career. Akshara argues with him that her dreams are presently to see him get back to his work again. Abhimanyu is not ready to listen and leaves in anger.
In the next episode, Abhimanyu realizes the extent to which his nerves are damaged and how minimal the possibility is of it getting any better. Anand tells them about the only doctor who can help Abhimanyu. Akshara plans to get on an almost impossible venture for him. Keep reading this space to know more.
Personalise your news feed. Follow trending topics