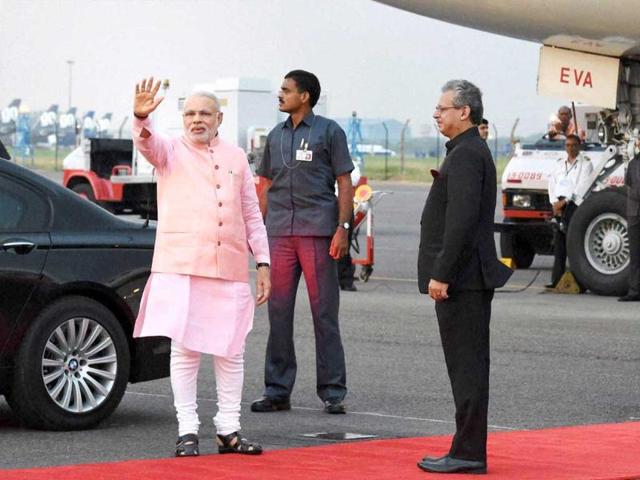 Balancing ties with both Japan, China PM's biggest challenge
Narendra Modi's praise of Japan as the country that 'has done more for modernising India's infrastructure' than any other is about as fervent as it gets in his foreign policy vision.
Hindustan Times | By Pramit Pal Chaudhuri
, New Delhi
UPDATED ON SEP 02, 2014 09:01 PM IST
Prime Ministers Narendra Modi and Shinzo Abe were always expected to get along. They've known each other for years. Both are driven by a domestic vision of national rejuvenation. And both see each other's countries as offering a means to accomplish their goals on the home front.
But Modi is known to be a hard-nosed man of business. The true test of a foreign relationship is less the geopolitical element than how much a country can deliver on key, largely domestic, policy objectives.
At the top of the list of this is providing India a world-class infrastructure on which he can then build smart cities, a revived manufacturing base and so on.
What has come out of the Japanese visit is soaked with infra-speak. The key part is the "partnership for prosperity" section and the lines "Abe affirmed a broader and stronger Japanese partnership" for Modi's "vision for accelerating inclusive development in India, particularly by transforming the infrastructure and manufacturing sectors."
Modi's praise of Japan as the country that "has done more for modernising India's infrastructure" than any other is about as fervent as it gets in his foreign policy vision.
Even Japan's "intention" to funnel $35 billion of investment into India targets "next generation infrastructure, connectivity, transport systems, Smart Cities, rejuvenation of the Ganga and other rivers, manufacturing, clean energy" and so on. Greenfield factories and the like don't get a mention.
Modi took a swipe at China, without actually mentioning the country. And he embedded it in a vision of Asia moving down a path of co-prosperity -- inviting Beijing to say that it wants to do the same and allowing him to then say, "Show me your money."
My sense is that he wants evoke a sense of competition between Tokyo and Beijing -- because nations see the India $1 trillion infrastructure market as something that could lift their domestic economies for decades and give their huge pile of savings a place to get a decent return.
So he'll play one against the other a bit, even if he trusts Japan a lot more. As one official in his office said, "We have to avoid having the Japanese believe we are desperate for their investment, which sometimes comes through in our talks."
China has and will say little about being called "expansionist" and "18th century." Xi Jinping will land in New Delhi in mid-September and he accepts the trust deficit with India will require some work to bridge.
In any case, China was always more worried about Indo-US relations than any other, and that bilateral tie-up is a road under repair.
The joint statement and fact sheet had a lot of talk about defence technology and manufacturing cooperation between India and Japan. Again, the foundation of this is the Chennai-Bangalore corridor which notably got more mention than the Delhi-Mumbai Industrial Corridor.
This is partly because the southern corridor will be the infrastructure base for what may prove to be a joint Indo-Japanese military industrial complex.
None of this will be easy. Balancing between Japan and China will be diplomacy at its most hair-raising. And while lining up foreign capital for Indian investment is clearly doable, cutting through the thicket of regulations and godawful legislation that holds back infrastructure in India has brought almost everyone who's tried it to their knees.
One reason Japan and China are taking Modi seriously is that they sense that in him, unlike Manmohan Singh (who's vision of Japan was similar), they have an Indian leader who can deliver on his promises. That is the deliverable that will become tangible in time.
Close