Sushma Swaraj discharged from AIIMS after successful kidney transplant
External affairs minister Sushma Swaraj underwent a successful kidney transplant on December 10 at the AIIMS, Delhi.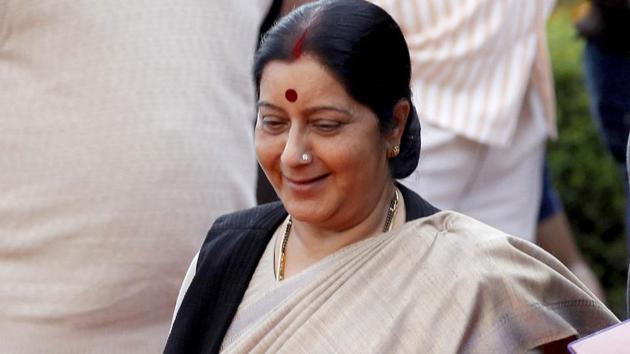 Published on Dec 19, 2016 10:38 PM IST
External affairs minister Sushma Swaraj, who underwent a kidney transplant on December 10, was discharged from AIIMS, New Delhi, on Monday evening.
In a statement, the hospital's communication department said, "Mrs Sushma Swaraj, MEA, who underwent kidney transplant operation on December 10, 2016, has shown steady recovery and was discharged from hospital today."
"Her post-operative recovery was closely monitored by a team of transplant surgeons, physicians (nephrologist, cardiologist, endocrinologist, pulmonologist) and anesthetist and critical care expert, physiotherapist, resident doctors and specialised transplant nurses," the statement added.
According to the doctors, Swaraj's surgery was uneventful. She was moved out of the intensive care unit (ICU) three days after the surgery on December 13.
The minister will be on regular follow-ups, and is expected to visit the hospital for a check-up a week later.
"She is stable and her transplanted kidney is also working fine. She can now lead a normal life," said a senior doctor, requesting anonymity.
Swaraj underwent the kidney transplant from an unrelated donor on December 10 at AIIMS that was supervised by a dedicated team of 50 medical staff, including several senior doctors such as M Minz, VK Bansal and Preet Mohinder Singh. Dr MC Misra, AIIMS director, who is also a senior surgeon, was a part of the surgical team.
The three-hour surgery was performed at the Cardio Thoracic and Neuro Sciences Centre at the hospital.
In a series of tweets on Monday, Swaraj made her discharge from the AIIMS public, thanking the hospital staff and her supporters for "prayers and good wishes"
"I am back from AIIMS after the surgery. I am seeing the necessary official papers. However, I am not allowed to receive visitors. I am grateful to the dedicated team of Doctors, SRs, Sisters, technicians and staff of AIIMS. They have lived up to the reputation of AIIMS
Dr. Mukut Minz - Thank you very much for my surgery Dr. Minz. I am proud India has a Surgeon of your eminence in kidney transplant surgery," she tweeted.
The 64-year-old minister, who is a known diabetic, has been in and out of the hospital for the past few months. She was admitted to AIIMS on November 7 due to chronic kidney disease, about which she herself had announced on Twitter.
Close Story