Lok Sabha elections 2019: BJP's Rajbhar leadership on test in Purvanchal
Rajbhar bagged the Shivpur assembly seat in 2017, he was the only Rajbhar leader from eastern UP to win the assembly polls on the BJP ticket.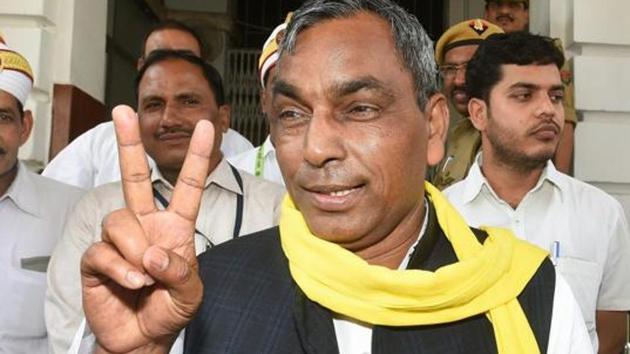 Updated on May 17, 2019 05:55 PM IST
When Rajbhar bagged the Shivpur assembly seat in 2017, he was the only Rajbhar leader from eastern UP to win the assembly polls on the BJP ticket. Shivpur assembly segment is part of the Chandauli Lok Sabha constituency that borders Prime Minister Narendra Modi's Varanasi Lok Sabha constituency.
Anil Rajbhar was made a minister of state in the Yogi Adityanath government as part of the BJP plan to raise its own homegrown Rajbhar leadership.
Nevertheless, he remained in the shadow of the bigger Rajbhar leader — Suheldev Bharatiya Samaj Party (SBSP) chief Om Prakash Rajbhar, with whom BJP chief Amit Shah had inked a pact ahead of the 2017 UP polls.
But as the 13 Lok Sabha seats in the last phase go to polls in eastern UP, it's Anil Rajbhar, along with party's Rajya Sabha MP Sakaldeep Rajbhar, whom the BJP has tasked with wooing the Rajbhars. This influential OBC community is uniformly spread across several seats in Purvanchal or eastern UP.
SBSP chief Om Prakash has rebelled midway through the seven- phase polls, put up candidates in 39 seats and more importantly has even supported the Congress and the SP-BSP candidates in some.
The nomination papers of seven SBSP candidates were rejected. This means that now 32 candidates are contesting on the SBSP's 'chaadi' (stick) symbol.
BJP's other Rajbhar leader – Hari Narayan Rajbhar — is busy with his own election in Ghosi where he is locked in a tough contest with BSP candidate Atul Rai.
Hence, it's Anil whose capabilities to woo his own community are on test, BJP leaders say.
"Anil and Sakaldeep are bigger leaders of the community than Om Prakash whose claim about having control of the community in this region would be exposed on May 23," said Harinarayan Rajbhar, the sitting BJP MP from Ghosi.
The BJP leaders said the party was all set to concede Om Prakash Rajbhar's demand of fielding him from Ghosi; a constituency where the Rajbhar vote is the maximum among OBCs.
It's in Ghosi that Om Prakash has held maximum rallies. He would wind up his campaign with three rallies and a road corner meeting there on Friday, the last day of the campaign for the seventh and final phase.
"We followed coalition dharma, kept Ghosi seat reserved for him. By not accepting our offer he has harmed himself, not us," UP BJP chief Mahendra Nath Pandey, the sitting MP from Chandauli, said.
In his election rallies, Om Prakash Rajbhar has been claiming that BJP ditched him midway through the elections.
"They wanted me to contest the elections on their ticket. Had I accepted the offer, my party, the SBSP would have been finished. I don't know who is advising the BJP, but we would have helped them with at least one lakh votes in many seats in Purvanchal. This is what I have been saying in my rallies too," he said.
Rajbhars either outnumber other OBC groups or are present in such impressive numbers that political parties take notice of them during elections in Ballia, Ghazipur, Ghosi, Azamgarh, Lalganj, Chandauli, Salempur and Mirzapur.
In December 2018, the BJP had made Anil Rajbhar the convener of Prime Minister Narendra Modi's Ghazipur rally despite the fact that it was being held in Zahoorabad assembly segment, which Om Prakash Rajbhar won in 2017 UP polls.
Post polls, it's still not clear if BJP would accept Om Prakash Rajbhar's resignation from the Yogi Adityanath government.
Close Story