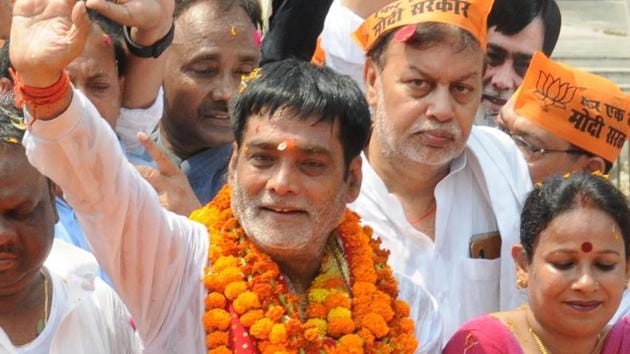 Lok Sabha Elections 2019: If GA has made tie-ups, NDA has JD(U) on its side, says BJP's Ram Kripal Yadav
Ram Kripal Yadav, who was a close aide of RJD chief Lalu Prasad before joining the BJP just ahead of the 2014 Lok Sabha polls, is once again pitted against his mentor's daughter Misa Bharti in the Patliputra parliamentary constituency in these general elections.
PUBLISHED ON MAY 12, 2019 10:55 AM IST
Ram Kripal Yadav (58), Union minister of state for rural development and sitting BJP MP from Patliputra, is seeking re-election from the constituency on the development plank, claiming he has worked for people of his constituency by implementing projects related to roads, power, hospitals and other infrastructure facilities. Patliputra constituency votes on May 19 in the seventh and last phase of Lok Sabha elections.
Yadav, who was a close aide of RJD chief Lalu Prasad before joining the BJP just ahead of the 2014 Lok Sabha polls, is once again pitted against his mentor's daughter Misa Bharti. Excerpts from an interview with Anirban Guha Roy:
How is your campaign going ? What are the issues you are highlighting?
My campaign is going fine. Development is my core agenda and I am campaigning solely on this issue. I have worked in the constituency for all sections of people by facilitating electrification in 2,500 villages, mainly in the diara ( riverine belt) of Ganges, where people didn't see electric poles in last many decades. Road connectivity, hospital projects, development of IIT campus, elevated road, drinking water project, airport, Namami Gange schemes and pending railway projects have been taken up with fund allotment from the Centre. The list is long. Of course, we are highlighting PM Narendra Modi's development works, national security and good works of the state government led by chief minister Nitish Kumar.
Your main rival, RJD's Misa Bharti, is targeting you for non-development in the constituency and says you are seeking votes only in the name of Modi?
Misa Bharti should first explain how many times has she raised development issues related to Patliputra in the Rajya Sabha during her current tenure. She has not spent five days in the constituency at a stretch while I have been a regular in my area, focusing on development works. The accusation of non-development in the constituency is all a big lie.
Our government at the Centre has worked in all spheres under the leadership of Modi and no one can ignore his popularity. The RJD candidate lives in big bungalows and has fascination for farm houses, malls and other big things. She is facing corruption cases lodged by Enforcement Directorate. Is it not a fact? The contest is between one who lives in palaces and one who lives in a hut.
Also Read | JD(U) leader draws flak for comment on Misa Bharti
What is your opinion on RJD getting tactical support from the CPI-ML (Liberation) to avoiding division of anti-BJP votes in Patliputra?
I do not attach much importance to ML extending support to the RJD candidate.Its so-called support base among the poor have always supported me. If the Grand Alliance has made electoral tie-ups, BJP has now the JD(U) on its side. In Patliputra, JD(U) had got around 1 lakh votes in the 2014 election, which I feel would not split.
Do you feel caste factor would be at play in Patliputra, considered a seat dominated by Yadavs, who are being wooed by both BJP and RJD?
Caste is passe now and people only talk about development. We in BJP and NDA believe in sabka saath, sabka vikas and have worked on that principle. I belong to Yadav community myself. I was made a minister in the NDA government despite being a first time MP from BJP. How many from Yadav community were made ministers in the second term of UPA at the Centre which was supported by RJD? Probably one. I want to state that voters in general are not going by caste affiliations anymore to decide their vote.
What is your take on the internal feud in the RJD's first family and sibling rivalry between Tejashwi and Tej Pratap? They have not been seen together in Patliputra.
These are internal matters of a family. I will not comment on it.
Close