At Bengal rally, PM Modi stings Mamata with an offer of a drawing
Both the BJP and Trinamool have blamed each other for the violence at Amit Shah's roadshow on Tuesday evening. A statue of renowned Bengal reformer, Ishwar Chandra Vidyasagar, was destroyed and a college named after him ransacked in the violence.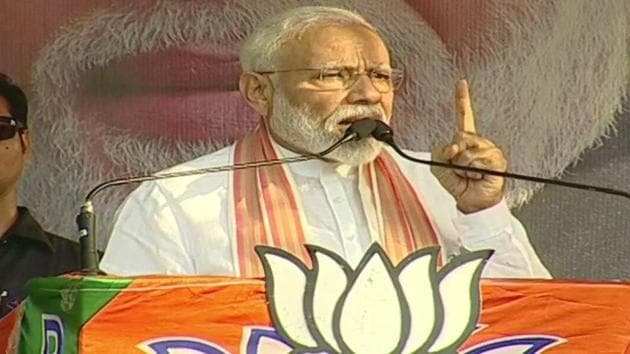 Updated on May 13, 2020 03:13 PM IST
Prime Minister Narendra Modi on Wednesday stepped up his party's attacks on Bengal Chief Minister Mamata Banerjee at a rally in Bengal's Basirhat, accusing Trinamool Congress of letting its goons loose because the party was scared of its defeat in the national elections.
"The BJP wave in Bengal has scared Didi and look to what level she has stooped," PM Modi said, blaming her party for the violence at his party president Amit Shah's Kolkata roadshow. A statue of renowned Bengal reformer, Ishwar Chandra Vidyasagar, was destroyed and a college named after him ransacked in last evening's violence, which the BJP and Trinamool leaders have angrily blamed on each other.
"Mamata Banerjee is high on power and wants to strangle democracy… Mamata Didi had declared publicly two days ago that she will avenge every inch of space that she loses to the BJP…. She has fulfilled her agenda within 24 hours," he said.
Also read: Amit Shah blames Mamata for roadshow violence, holds up 3 photos as proof
PM Modi also panned the chief minister for the arrest of a youth BJP leader in Bengal for sharing Mamata Banerjee's morphed photo on social media. Her arrest has already been criticised by the BJP which has sought to use the incident to project Mamata Banerjee as a dictator.
WATCH: Mamata meme row: BJP worker alleges delayed release, forced apology
The prime minister recalled Mamata Banerjee's outburst at two students who asked her an inconvenient question at a televised interaction. Then he came up with an offer.
"You can draw my picture… make it as offensive as you want and after 23 May when I win, you can come over to gift it to me," PM Modi said at the rally. Moments earlier, the prime minister had predicted his victory in the national elections and declared that Bengal would contribute a big share.
"I will accept the drawing and treasure it… I will not file an FIR against you," PM Modi said.
Basirhat, which is due to vote on May 19 along with eight other Bengal Lok Sabha seats, had been a citadel of the communists for three decades before Mamata Banerjee's Trinamool breached it in 2009.
Communal violence had erupted in some parts of this constituency in July 2017 after a derogatory social media post on the Prophet Mohammad went viral. The violence was ultimately contained after a week but some of the fault lines have persisted.
The votes of the bitterly-fought seven-phase elections are due to be counted on May 23.
PM Modi, who had described Mamata Banerjee as someone who was afraid of her own shadow, said the chief minister appeared to have "crossed all limits and lost her mental balance" when she recently said that she did not consider Modi the Prime Minister.
"She is not ready to consider the Prime Minister of India as the PM… but she accepts the PM of Pakistan as Pak PM," he said.
Close Story