'Activists' arrests a cynical ploy to divert attention from Sanstha'
Updated on Aug 30, 2018 06:27 AM IST
37 rights groups condemn Pune police's action, call it political conspiracy to suppress civil liberties.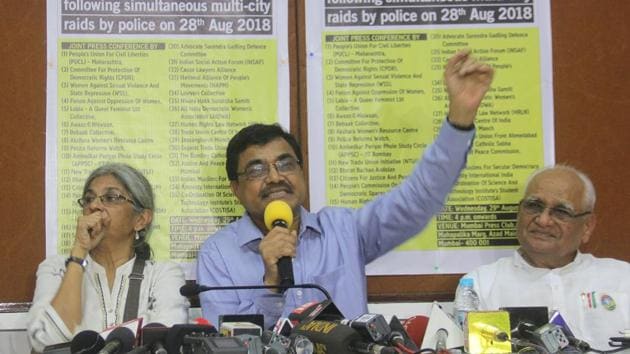 Condemning the arrests and detention of human rights activists from five states by the Pune police on Tuesday — calling them 'Maoist sympathisers' — members of various human rights group demanded their immediate release.
Addressing media persons at Mumbai Press Club on Wednesday, representatives of the 37 organisations described the police action as a political conspiracy to suppress civil liberties and democratic rights of the activists.
They also alleged it was a cynical ploy to divert attention from the ongoing investigation against the alleged members of Sanatan Sanstha for their role in killing rationalists and plotting terror attacks.
On Tuesday, Pune police arrested advocate Sudha Bharadwaj, national secretary of People's Union for Civil Liberties (PUCL) from Faridabad, Father Stan Swamy in Jharkhand, writer and poet Varavara Rao from Hyderabad, civil rights activist Gautam Navlakha from Delhi, activist Arun Ferreira and Vernon Gonsalves in Mumbai.
All five were booked under relevant sections of Unlawful Activities (Prevention) Act (UAPA) for their alleged links with Maoists.
The police also searched the Goa house of Anand Teltumbde, general secretary of Committee for Protection of Democratic Rights (CPDR).
Advocate Mihir Desai, one of the representatives of the groups, said charges levelled against the activists were baseless because most of them were not even present in Bhima-Koregaon when the violence erupted.
"UAPA is being invoked just to keep them behind the bars for a long time," he added.
Retired high court judge BG Kolse-Patil said the state had formed a fact-finding committee under IG Nangre Patil, whose report ascertained that Milind Ekbote and other Hindutva hardliners perpetrated the Bhima-Koregaon violence.
"Bhima-Koregaon violence was state sponsored. Sambhaji Bhide and Milind Ekbote provoked it. The main reason behind arresting intellectuals is to divert people's attention at a time when pressure is mounting on police to take action against Sanatan Sanstha chief," Patil said.
Teltumde, whose Goa house was raided by the police, said, "By arresting intellectuals who fight for the underprivileged and suppressed, the state is trying to tarnish their reputation."
Personalise your news feed. Follow trending topics