Formula One: The Spanish Grand Prix takes us back to 2017
May 15, 2018 09:34 AM IST
The Spanish Grand Prix, won by Lewis Hamilton, really did taste like a race of 2017 vintage, writes Raja Sen
After a breathless and competitive season of Formula One, this weekend's action from the Spanish Grand Prix felt like a rerun. Lewis Hamilton led from pole and took a dictatorial victory by 25 seconds, with his Mercedes teammate Valtteri Bottas completing a one-two for the silver squad, while Red Bull's fiery Max Verstappen punched above his weight to deny Ferrari a podium. It really did taste like a race of 2017 vintage.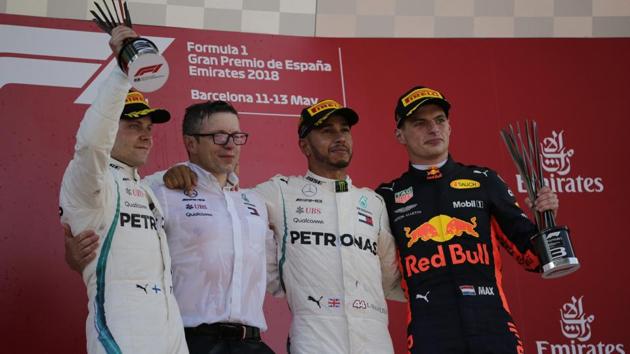 Hamilton, the reigning world champion, will not complain. With a faultless and unchallenged 64th victory, the British driver extended his championship lead over Ferrari's Sebastian Vettel to 17 points and, more importantly, the Mercedes cars appear to have a comfortable pace advantage again. Hamilton set blindingly fast sector times throughout the race regardless of tyre-type, and it is going to be dashed hard for Vettel to claw back this advantage.
This is especially because in Spain, Hamilton set a record of scoring points in thirty consecutive F1 races, something that marks his driver-and-team combination as the single most consistent in the history of Formula One. Even on a bad day, he's taken home a few points, which — given just how catastrophic a race-day can be — is a remarkable feat.
READ | Jehan Daruvala earns Formula 3 podium in France
Just ask Kimi Raikkonen. The Ferrari driver qualified and raced coolly ahead of the Red Bulls till he slowed mysteriously down and allowed those everrestless teammates to pass.
"I have an issue," he said on the radio with his characteristic understatement and matter-offact existentialism, and it was a technical concern that Ferrari could not diagnose. This mystery is more ominous because Raikkonen was using a brand new engine unit this weekend.
Just before Raikkonen exited the race, a television commentator remarked on how extraordinary it was to see the young (and easily provoked) Max Verstappen not make a single error all weekend. It didn't take long for Max to change that, however, as he made a klutzy mistake while lapping — not overtaking, lapping — Lance Stroll and cracked his own front wing as he nudged the slower car. His teammate Daniel Ricciardo, not to be left out of the highlight package, spun behind the virtual safety car.
READ | Sebastian Vettel defends Ferrari's two pitstop strategy in Spanish Grand Prix
Red Bull Racing might not be leading the grid, but these two are certainly the cars to watch. (Red Bull also had the fastest pitstop (2.26 seconds) and the fastest lap (1:18.441 by Ricciardo, which was .7 of a second faster than anyone else), lest you think the team is specialising in being silly.
The second fastest lap was from Vettel, who fell short of the podium. The Ferrari driver led the title bid in style two races ago, and slipping back appears to have brought out his kamikaze side.
In Azerbaijan it went wrong when he outbraked in a foolhardy attempt to pass Bottas, and in Barcelona he briefly shone when he passed both Bottas and Magnussen with one silken manoeuvre. It's smashing bareknuckle racing, but looking back at the grid at Raikkonen and, more importantly, superhero Spaniard Fernando Alonso, the question must be asked. Do cowboys win?
(The writer is a film critic who has been writing on Formula One since 2004. He shares his birthday with Michael Schumacher. Views expressed are personal.)