'I'll end up getting fined': England stars Maguire, Bellingham bash 'joke of a referee' Wilton Sampaio after France loss
Dec 11, 2022 01:07 PM IST
Despite being awarded two penalties, the Three Lions faced some harsh decisions against them, which looked like certain fouls.
England endured another heartbreak at the World Cup after they lost 1-2 against France in the quarterfinal tie on Saturday. The Three Lions put up a dominant effort but unlike France they failed to make the most of their chances.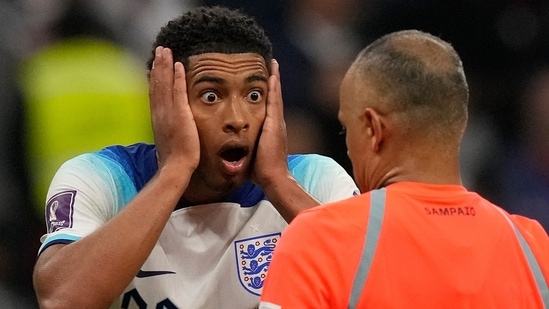 The proceeding started with Aurelien Tchouameni handing a lead to the defending champions under 20 minutes after he beat Jordan Pickford from long distance. The halftime interval saw France go into the break with one goal cushion, but some fine football by Bukayo Saka helped England earn a penalty, which was successfully converted by their skipper Harry Kane.
As the clock ticked, Olivier Giroud, restored France's lead, as he connected an incoming cross by Antoine Griezmann with his head and it took a deflection of Harry Maguire before it went past Pickford.
England had another opportunity to equalise in the closing stage of the contest as they were awarded another penalty after a lengthy VAR check for a shove against Mason Mount. However, Kane failed to replicate what he had done moments earlier, as he sent the ball way over the cross bar thus bringing an end to England's campaign in Qatar.
FIFA World Cup | 'Kiss of GOD': Morocco defender's hilarious reaction to Pepe's miss during quarterfinal wins internet; watch viral video
However, one thing, which became the talking point among England's current and past footballers was Brazilian official Wilton Sampaio poor refereeing.
Despite being awarded two penalties, the Three Lions faced some harsh decisions against them, which looked like certain fouls.
The first goal, which was a counter, actually saw Saka being taken down but referee allowed the game to continue. This was one of the many instances and disappointed England stars picking on the referee didn't come as a surprise.
England legend Gary Neville tweeted: "Ref is a joke!"
Sharing his views on the same on ITV following the contest, the former England footballer added: "I thought he had an absolute nightmare. A joke of a referee. I'm not saying it was all down to England's defeat – people will say it is excuses – but he's just a bad referee, rank bad."
While this came from someone, who was watching the match, the stars on the field too were not very happy with Sampaio's conduct.
England star Jude Bellingham told ITV the referee was: "Not great if I'm being honest, not great. Anyone can have a bad game, players and referees. I think he wasn't where he should have been today in terms of the level for a game like this.
"But there are more factors as to why we lost, this definitely isn't me putting it all on him, we were the ones who played the game, but yeah I don't think he was at the level tonight.
"I think there were a few [fouls] around the box in the first half, we are deadly at set pieces, and I think any one of those can make the difference."
Watch: Mbappe ruthlessly mocks Kane after England captain missed decisive penalty in Three Lions' FIFA World Cup exit
Similar views were echoed by defender Harry Maguire, who told BBC: "Really poor, very poor. From minute one, there were five, six fouls in the first 15 minutes, not one yellow card. It's a foul for the first goal, leading up to it on Bukayo.
"I can't really go into explaining how bad his performance was. I don't want to go into too much because I'll end up getting fined. But even though the big decisions were wrong he never gave us anything, throughout the game he was really poor."
England manager Gareth Southgate, however, didn't point fingers at the officials. Talking to ITV, the England manger said: "(It's) pointless me going into that. I'd rather talk about our players. Congratulations to France. They know they've been in a hell of a game. I don't think we could have done any more."