The frog was given a combination of five drugs sealed in a silicone cap called bio domes. It set in motion the process of limb regeneration which took 18 months, the scientists said.

This Twitter thread by Simon Curtis chronicles how he found a little frog in his box of lettuce at Whole Foods and the wholesome adventures that followed.
"Nice video," wrote an Instagram user while reacting to the clip of the girl hanging out with her green frogs.
While some expressed that the amphibian looked straight out of the movie Jurassic Park, others requested for more information on the stunning creature.

The Loa water frogs, a tiny and beguiling dark-spotted amphibian also known as Telmatobius dankoi, mated between Oct. 11 and 12.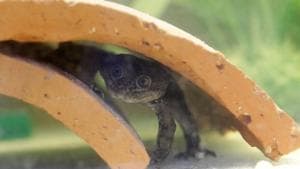 SANTIAGO |
By
Reuters | Posted by: Amrita Kohli