Bullion is considered a safe store of value during times of political and economic crisis.
Published on Apr 18, 2022 11:45 AM IST
With local gold prices trading around

₹

48,000 per 10 grams this week, regional head of World Gold Council said that there is greater acceptance at the current price level from Indian consumers.

Published on Jan 28, 2022 07:33 AM IST
Spot gold was up 0.3% at $1,816.70 an ounce by 1145 GMT, its highest since Nov. 22, while U.S. gold futures rose 0.5% to $1,818.20.

Published on Dec 28, 2021 05:59 PM IST
In the international market, gold was trading marginally lower at $1,857 per ounce and silver was flat at $25.17 per ounce. Spot gold prices were on pace to post their second straight weekly rise of about 2%.

Published on Nov 13, 2021 08:13 AM IST
Get latest update on daily spot gold prices, currency exchange rates and other precious metal rates in India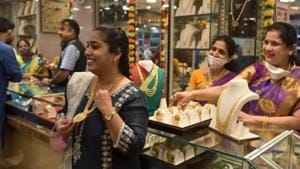 Updated on Nov 12, 2020 12:55 PM IST
HT Analytics |
By
HT Analytics