Latest from hong kong government
Hong Kong formally confirmed John Lee as its next top leader after an uncontested election, solidifying an era of more direct Chinese political control over the once-freewheeling financial hub.

Passengers from India can enter Hong Kong only if they have a Covid-19 negative test report done 48 hours prior to the journey, local authorities have mandated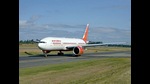 The finance hub has struggled to maintain China's zero-Covid policy during an Omicron-fuelled outbreak.

With the average daily deaths much higher than ever seen since the beginning of the pandemic, there are lessons for countries on their approach to fighting the virus

The densely populated metropolis is in the throes of its worst-ever Covid wave, registering thousands of cases every day as hospitals and isolation units run out of space.