Taking to Twitter, the SAD president urged the external affairs minister to take up the issue of safety of Sikhs with the Pakistan government.

External affairs minister S Jaishankar, who spoke at an event organised by the Israeli embassy, said the relationship has picked up pace after PM Modi's visit to Israel in 2017.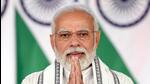 PM Narendra Modi visited Dhaka in March last year to participate in celebrations marking the 50th anniversary of Bangladesh's independence.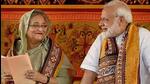 "The idea that others define us, that, you know, somewhere we need to get approval from other quarters, I think, that's an era we need to put behind," foreign minister S Jaishankar said.

While the Biden administration played the god cop, it slipped badly when Secretary of State Antony Blinken decided to raise the issue of human rights in India despite the matter not being discussed at all during the April 11 meetings.