Latest from maximum temperature
Earlier this week on Monday, day temperatures reduced significantly on account of rain and thunderstorms and winds reaching speeds of up 60km/hr. The showers brought Delhi significant respite from a brutal spell of heatwaves that saw temperatures cross 49°C in at least two parts of the city.

An action plan would incorporate early warning systems for temperature, ways to prevent exposure of those in vulnerable population segments, and long-term mitigation strategies.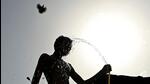 Following the early morning thunderstorm, Delhi had recorded a maximum temperature of 31.5°C on Monday. It was 32.5°C on Tuesday and 34.4°C on Wednesday.

The highest maximum temperature at any station of Delhi was recorded at 47.2 degrees Celsius at Mungeshwar station, followed by Najafgarh at 47 degrees Celsius - eight and seven notches above normal, respectively.
Written by Sharangee Dutta | Edited by Chandrashekar Srinivasan
, New Delhi
A fresh heatwave spell was predicted over Delhi from Sunday, but easterly winds prevailing in the national capital under the impact of Cyclone Asani shielded the city against it.