Latest from syed ali shah geelani
Anees-ul-Islam alias Altaf Fantoosh, late Geelani's grandson, has been sacked under the special provisions of Article 311 (2) (c) of the Constitution.


Published on Oct 16, 2021 10:03 PM IST
Mehbooba Mufti said that Kashmir has been turned into an "open-air prison" and the dead aren't scared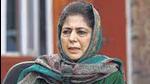 Updated on Sep 06, 2021 01:58 AM IST
Syed Ali Shah Geelani, 91, died on Wednesday night at his residence after a prolonged illness.


Published on Sep 05, 2021 06:24 AM IST
Here are today's top news, analysis, and opinion at 1pm. Know all about the latest news and other news updates from Hindustan Times.


Published on Sep 03, 2021 12:50 PM IST