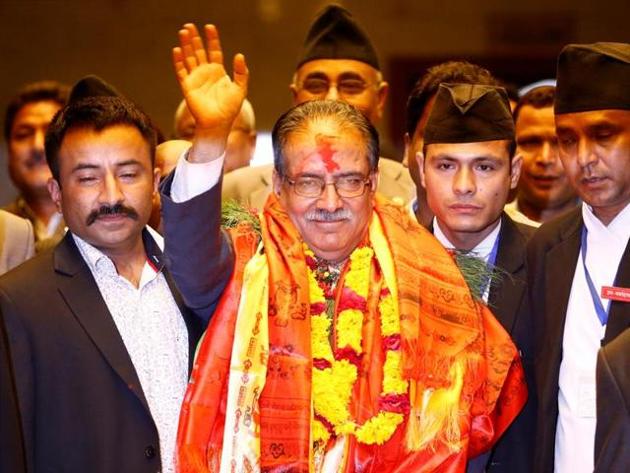 Nepal: Prachanda govt faces crisis after coalition partner pulls support
The Rastriya Prajatantra Party announced it was withdrawing its support, citing the impeachment motion registered in Parliament against Chief Justice Sushila Karki.
Hindustan Times, Kathmandu | By Anil Giri
UPDATED ON MAY 01, 2017 11:30 PM IST
The government of Prime Minister Pushpa Kamal Dahal "Prachanda" received a blow on Monday after one of its coalition partners — the Rastriya Prajatantra Party — announced it was withdrawing support, citing the impeachment motion registered in Parliament against Nepal's Chief Justice Sushila Karki.
The motion to impeach Karki was registered on Sunday after a dispute arose over the appointment of the Nepal police chief, with allegations that the judge tampered with the performance evaluation of candidates for the post.
"The decision to impeach Karki... is an attack against the judiciary, so the party does not support such a move," the RPP said in a statement.
The motion to impeach Karki, moved by two of the seven ruling parties - the Nepali Congress and the CPN-Maoist Center - has led to widespread uproar in the Himalayan nation, and the RPP's decision is just the latest show of defiance by a member of the ruling coalition.
On Sunday, home minister Bimalendra Nidhi, who heads the Nepali Congress, had tendered his resignation, expressing his reservation over the decision.
The government is in danger of being reduced to a minority if another partner, the Madhesi Jana Adhikar Forum, decides to pull its support. The party's central committee will meet on Tuesday to take a final call, said one leader.
There was no immediate reaction from Prachanda on the fate of coalition.
The political upheaval comes just a fortnight before the first phase of elections to local government bodies — the country votes on May 14 and June 14. The Election Commission has set Tuesday as the date for filing nominations for the first round, and Prachanda has said the election will be held at any cost.
However, the home minister is in charge of overall security of the country and RPP chairman Kamal Thapa leads the local development ministry in-charge of coordinating 477 local units.
A meeting of the Nepal Army brass has further fuelled speculation about the situation — army chief Gen Rajendra Chettri called an emergency meeting on Sunday night to assess the political situation and ordered extra vigilance across the country.
Close