Horoscope Today: Astrological prediction for January 07, 2023
Jan 07, 2023 09:11 AM IST
Daily horoscope: Are the stars lined up in your favour? Find out the astrological prediction for Aries, Leo, Virgo, Libra and other zodiac signs for January 07, 2023.
All zodiac signs have their own characteristics and traits which define someone's personality. Wouldn't it be helpful if you started your day by already knowing about what's going to come your way? Read on to find out whether the odds will be in your favour today.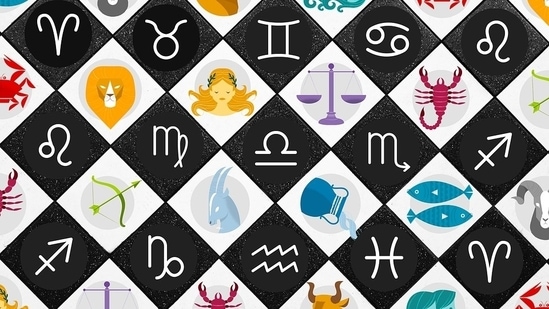 ARIES (Mar 21-Apr 20)
High productivity comes along with good health. Holding on to workouts and exercises for you may be tough as you may feel lethargic. Don't touch those emergency funds, they may be very useful in the days ahead. Family won't alienate you, they may be right beside you whenever you are low. Pack up some snacks and enjoy a day full of exploration and quest. Deliberate before you invest on property, do not rush. Caution on profits and losses could be beneficial. Read Aries Daily Horoscope Prediction for January 7 2023
Also Read Love Horoscope Today
Love Focus: Be expressive with your efforts and love towards them.
Lucky Number: 5
Lucky Colour: Green
TAURUS (Apr 21-May20)
Write down your expenditure on paper for better introspection of your funds. Work may wash away your blues and yield you gains. Healthy relationships and bonds with your loved ones may be favourable, enjoy it to the fullest. Your family may also be reason to drive you through the day. Adequate physical and mental well-being may be foreseen, you could start doing yoga for better well- being. Taking a short trip to an enchanting place could help you introspect. Property deals may come onto your hand with ease, go ahead with them. Read Taurus Daily Horoscope Prediction for January 7 2023
Love focus: Take time to make your partner feel loved by you.
Lucky Number: 3
Lucky Colour: Brown
GEMINI (May 21-Jun 21)
There could be restrictions on your food habits as you may be inert and exhausted in a way. The appropriate time for the maturity of your policies and benefits from your work may give you the perfect time for some leisure activities. At the same time, it may be hard to see your health and family being exhausted. Putting equal efforts to improve health and make up to your family may be a task in itself. Investment on property may need some deliberation from your end. Read Gemini Daily Horoscope Prediction for January 7 2023
Love Focus: Misunderstandings could ruin both your moods.
Lucky Number: 9
Lucky Colour: Red
CANCER (Jun 22-Jul 22)
Enjoy a wonderful time with your family and loved ones. Your costs are effective and may last better than before. The need to focus on exercise and water intake may be increased as it may not lead to serious issues. Don't be disheartened on an unfavourable day, it may not be extensive. A family vacation may be intended pertaining to a precautionary measure in everything. Property may bring benefits and be trustworthy to put your hard-earned money. Help may be needed in academics. Read Cancer Daily Horoscope Prediction for January 7 2023
Love Focus: Love could be your driving force in to the day.
Lucky Number: 1
Lucky Colour: Peach
LEO (Jul 23-Aug 23)
You may have a good day with your colleagues at work. Good health and your efficiency in completing your work may make you feel like a star in your office. Listening to the advice from your family elders could benefit you. Travelling to the hills may not suit your system much. Do not be in a rush to dispose off an old property; you may get a better price soon. Your blood and sweat into the competition at university has bore fruits. Read Leo Daily Horoscope Prediction for January 7 2023
Love Focus: An exciting date could be planned for your special one.
Lucky Number: 11
Lucky Colour: Cream
VIRGO (Aug 24-Sep 23)
An exciting yet productive day of work with a lot of new experiences is on your way. As you have a bright and healthy mind and body, you would be able to overcome any challenges that you encounter. Avoid being harsh with your words today as it may affect the ones close to you. Family harmony may be compromised because of your mood swings. Travel may not be effective as you have a lot of things going on in your mind. Academics and institutional courses may need your focus. Read Virgo Daily Horoscope Prediction for January 7 2023
Love Focus: Keep your heart open for a new beginning in love.
Lucky Number: 5
Lucky Colour: Magenta
LIBRA (Sep 24-Oct 23)
You may be having an exemplary day at work and that may also reflect on the finances you've planned for the day. You may have had a hard working day which has it's fruits borne. Make a family itinerary to lift up the spirits of your family. Look after your health today, keep your medicines and vitals close to you. Property may not yield much this time, be cautious while you're investing on it. You may be seen improving on your academic front. Read Libra Daily Horoscope Prediction for January 7 2023
Love Focus: You need to work hard to keep your love close to you.
Lucky Number: 22
Lucky Colour: Pink
SCORPIO (Oct 24-Nov 22)
Health needs care today. Build a morning routine for yourself and make sure you eat well too. Some small increment can be expected at the work place. Your colleagues and seniors are waiting to shower praises on you. Your travel plans need to be thought about once again. Try not to take long trips as it may have not so good returns. Property deals may fall in your favour, go ahead with them. Celebrate the victory in the competition you participated in. Read Scorpio Daily Horoscope Prediction for January 7 2023
Love Focus: Expressing love and care could be the best way to keep your bond close.
Lucky Number: 8
Lucky Colour: Sky Blue
SAGITTARIUS (Nov 23-Dec 21)
A healthy mind and body is reflecting on your day ahead in work. You may be doing the exactly correct things in work that may be giving you profits. Family may be really low on spirits because of some misunderstanding related to your extended family. Also your finances may need to get into line for the better. Travelling may be given a second thought. Property negotiations may be better postponed to a later date. Some of you are likely to upgrade your skills. Read Sagittarius Daily Horoscope Prediction for January 7 2023
Love Focus: Await a different approach of love from your partner.
Lucky Number: 7
Lucky Colour: Orange
CAPRICORN (Dec 22-Jan 21)
Health needs a bit more care from your part. Your income and budgets must've reached the equal limits. Work day may be a little too much and you may struggle if not guided. Family may have helped but they're going through the same as you are. You may go on a solo trip to do some soul surfing. Property deals and investment might need some extra deliberation as you may fall on your back without that. Keep your hard work going to excel in academics. Read Capricorn Daily Horoscope Prediction for January 7 2023
Love Focus: Your partner needs some extra attention.
Lucky Number: 7
Lucky Colour: Maroon
AQUARIUS (Jan 22-Feb 19)
As you've been doing the perfect amount of physical activities, your day may be properly divided in to adequate mental and physical space. Family might be helpful in various aspects to get your day better. Travelling may not be the best idea, spend time with your loved ones and family instead. Property may give you benefits with the advice from roots. Focus on your academics, it may not be enough. Read Aquarius Daily Horoscope Prediction for January 7 2023
Love Focus: There may be a little surprise in love for you.
Lucky Number: 4
Lucky Colour: Purple
PISCES (Feb 20-Mar 20)
You have a lot to invest and there may be a lot to save at the same time, good news! Travel plans might be a good idea if you plan it well early before time and spend the best. Have patience on the work front today. Family would come to your rescue at this time and elevate your spirits. Investment in property could be done confidently as they might yield more benefits than expected. Your hard work may be paying off, keep the efforts high on academics. Read Pisces Daily Horoscope Prediction for January 7 2023
Love Focus: You may have to take some steps for heightening your partner's spirits.
Lucky Number: 17
Lucky Colour: Saffron
"Exciting news! Hindustan Times is now on WhatsApp Channels
Subscribe today by clicking the link and stay updated with the latest news!"
Click here!