Fake passport, visa racket busted, two arrested
Published on Jan 26, 2023 12:15 AM IST
he crime branch on Tuesday busted a fake passport and visa racket with the arrest of two persons in Andheri. The police have seized 28 fake passports and 24 fake visas from the accused. The arrested accused have been identified as Imtiyaz Shaikh and Sudhir Sawant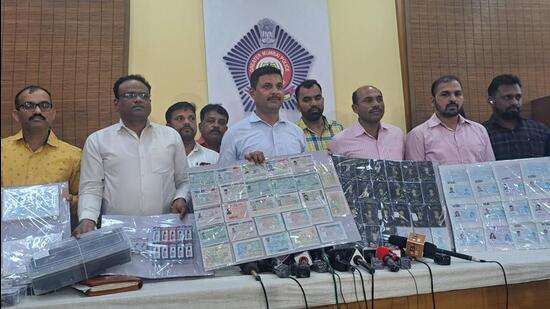 Mumbai: The crime branch on Tuesday busted a fake passport and visa racket with the arrest of two persons in Andheri. The police have seized 28 fake passports and 24 fake visas from the accused.
The arrested accused have been identified as Imtiyaz Shaikh and Sudhir Sawant.
Deputy commissioner of police (detection) Prashant Kadam said that based on specific inputs Unit-5 of the crime branch raided a flat in Andheri and seized 68 articles, including 28 fake passports, 24 fake visas, and fake stamps of immigration department of over 13 countries.
The duo used to help travel agents in preparing fake passports for those travelling abroad without proper documents. The accused charged them between ₹1 and ₹5 lakh per passport, Kadam added.
Shaikh, 62, is an expert in forging passports, visas and other certificates. He has been purportedly involved in the forgery for the past two decades and provided services to travel agents across the country, a crime branch official said.
He is suspected to have made fake passports and immigration documents for hundreds of international fliers in the past, the officer added.
Last year, Shaikh and Sawant were arrested by the Delhi police after their role surfaced in making fake immigration documents for an individual, who was deported back to India after he was caught with a fake passport.
The duo came out on bail a few months ago and again started similar activities.
"Shaikh and Sawant have been booked under relevant sections of the Indian Penal Code and the Passports Act for cheating and forgery. They were produced before a court which remanded them in police custody till February 4," Ghanshyam Nayar, inspector, Unit-5 of the crime branch, said.
Shaikh has four similar offences registered against him at various places.