Afghanistan's Rashid Khan and Mujeeb Ur Rahman face challenge of T20 to Test transition
It'll be interesting if Afghanistan's Rashid Khan, Mujeeb Ur Rahman and Mohammad Nabi -- all of whom have a good T20 record -- can show the patience that can pay off in Tests.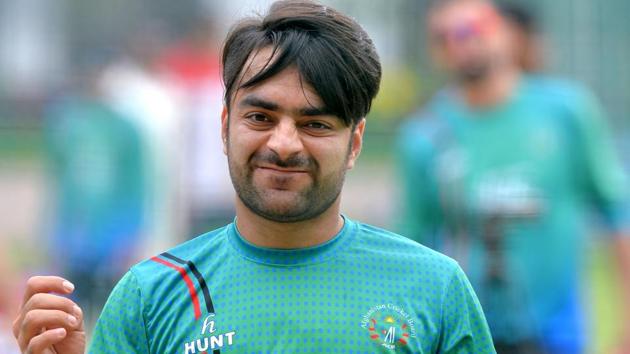 Updated on Jun 14, 2018 10:14 AM IST
Hindustan Times | By Aakash Chopra
Afghanistan captain fired the opening salvo when he claimed his spinners were better than their Indian counterparts.
While there's no doubt Rashid Khan, Mujeeb ur Rahman and Mohammad Nabi have been excellent in the shortest format, their effectiveness with the red ball over five days is still to be tested. (IND vs AFG, 1st TEST, DAY 1, LIVE UPDATES)
The key difference between bowling in T20 and Tests is that the need to score quickly and paucity of time often leads to cheap dismissals in the former. But there's no such rush in Tests, and therefore, only quality bowlers succeed over a period of time. Anyhow, it's worth taking a close look at their three spinners and what they bring to the table.
ALSO READ: Afghanistan story apart, Test cricket needs to expand
Rashid Khan
The leg spin sensation from Afghanistan is arguably the best T20 bowler in the world now. His high arm action, quick arms and disguised googly haven't been deciphered despite him plying his trade across the globe in various T20 leagues. Leg spinners with a high arm action might get less side spin but their googlies are more effective because they don't have to change their point of release to slip in the wrong one. Generally, as a batsman, you see the back of the hand when a bowler is trying to bowl a googly but in Rashid's case, you see the back of the hand all the time. Since there's no visible difference at the point of release, it's very difficult to differentiate between leg-spin and googly. His speed in the air also makes it very difficult for the batsman to adjust if he misreads the length. Robin Uthappa is one of the rare batsmen who has got a very good record against Rashid, and he claims to play him like an off-spinner. Perhaps, that's what the Indian batsmen might have to do in Bangalore.
ALSO READ: England secure nervy three-wicket win over Australia in Oval ODI to take lead
Mujeeb Ur Rahman
He's the new mystery bowler in town who's also shown good control. Often he bowls with the new ball in the powerplay overs of a T20 game and he's rarely expensive. He's got two key variations — a front of the hand carrom ball that goes away from the right-handed batsmen and a back of the hand googly that turns in after pitching. Besides the positioning of the hand at the point of release, the key difference between the two is also the speed of the ball. The faster ones are carrom balls and the slower ones are almost always the googlies. It'll be interesting if he's able to bowl long spells without bowling boundary balls in Test cricket, for unlike T20, it's almost impossible to pack both sides of the pitch in a Test.
Mohammad Nabi
His style of off-break is a throwback to the years gone by. He's got a clean action and he relies on the traditional drift and dip to beat the batsman in the air. He doesn't have a doosra or a carrom ball and his only variation is the arm ball that holds its line and goes away from right-handed batsmen, and is delivered a little faster and flatter. He's the most experienced first-class cricketer in the Afghanistan team and is therefore equipped with patience to set up dismissals by bowling quiet overs. If the pitch at Chinnaswamy starts turning, like it was during the IPL, he might be a fairly difficult proposition to handle.
Close Story