Australia coach Darren Lehmann has questions to answer, says Nasser Hussain
Updated on Mar 26, 2018 10:56 PM IST
Steve Smith referred to the team's 'leadership group' as being behind the ball-tampering plan, not the coaches, but Nasser Hussain wants to hear an explanation from Australia coach Darren Lehmann.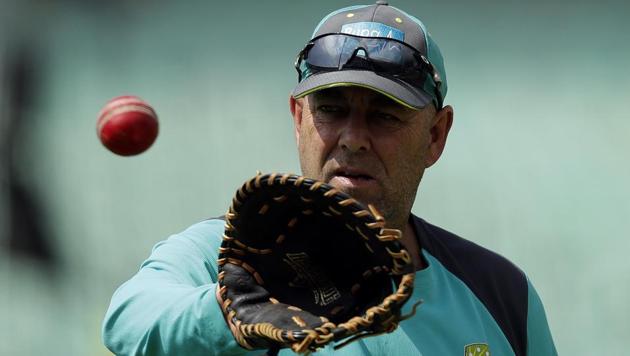 Agence France-Presse, London |
Agence France-Presse
Former England captain Nasser Hussain said Monday that Australia coach Darren Lehmann has questions to answer about the ball-tampering scandal engulfing his team.
Australia captain Steve Smith was banned for one Test and docked his entire match fee by the International Cricket Council for his role in a plot that saw teammate Cameron Bancroft tamper with the ball during the third Test against South Africa.
Smith referred to the team's "leadership group" as being behind the plan, not the coaches, but Hussain wants to hear an explanation from Lehmann.
"It doesn't look good on Lehmann either way, really," he said. "If he did know then he's in a whole heap of trouble and will not be able to hold his job down if he is condoning cheating and (the) scratching of a cricket ball," Hussain told Sky Sports.
"If he didn't know, then questions will be asked as to why senior players are going round not telling the coach exactly what is going on.
"In the dressing rooms I've played in, it is inconceivable that the coach wouldn't know something like this was being dreamt up."
The make-up of the "leadership group" has not been defined but Hussain, who captained England between 1999 and 2003, would also like to hear from other senior players.
"The silence has been deafening actually, not just from Lehmann and (David) Saker, the bowling coach, but also from David Warner," said Lehmann.
"David Warner seems to have a lot to say on a cricket field -- in the last 48 hours the silence from David Warner has been deafening."
In a column for Britain's Daily Mail newspaper on Monday, Hussain said the premeditated nature of the cheating was notable, adding Smith must shoulder lots of the blame.
Former Australia coach John Buchanan said it was not common for a coach not to know what plans his players have on the field.
"Generally it will be the coach and captain, in the last couple of minutes before they go to the field, who will be saying, 'these are the sort of things we want to do and put in place when we get out on the field'," he told BBC radio.
Former England all-rounder Ian Botham also wants to hear explanations.
"What on earth possesses you to do something so stupid is beyond me," said Botham. "There's so much talk about it -- how far does it go, how deep does it go?
"The players are saying that the management weren't involved, which I hope is true. I don't think this decision was made by (just) Smith and (vice-captain David) Warner, so who else was involved?"
Personalise your news feed. Follow trending topics