Concerned Alia Bhatt once said Shah Rukh Khan never eats food, here's the heartbreaking reason behind it
Published on Mar 11, 2022 04:28 PM IST
In an old interview, Alia Bhatt has talked about Shah Rukh Khan's bad habit of not eating any food. He had once revealed why he doesn't.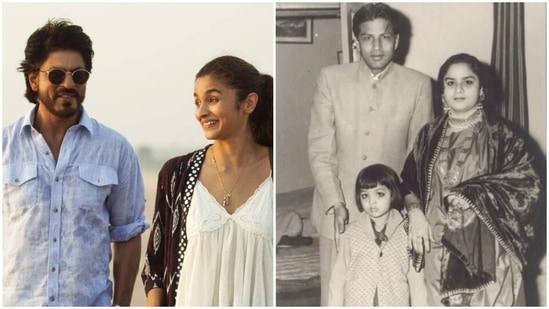 Fans have unearthed an old interview of Alia Bhatt in which she spoke about Shah Rukh Khan and his unhealthy (or non-existent) relationship with food. Alia said in the interview that she never saw Shah Rukh eat anything on the sets of their movie, Dear Zindagi. The post was shared on Reddit and made Shah Rukh's fans feel concerned about their favourite actor's health. (Also read: Fan asks Shah Rukh Khan if he's watched Lal Singh Chaddha, he reveals what Aamir Khan wants in exchange)
In Dear Zindagi, directed by Gauri Shinde, Alia and Shah Rukh worked together for the first time. He played her therapist in the movie about mental health and the trauma of abandonment.
In a 2016 interview to The Indian Express, Alia said, "There is nothing that I hate about him (Shah Rukh Khan). But there is something that I felt bad about. He doesn't eat at all. Let me tell you an incident. On sets it was always very quiet. No one was allowed to speak. We used to have heavy scenes and long takes and lots of dialogues and we used to run through the whole scene. Suddenly in between, I could hear a growl and I could sense that it was coming from his stomach. Then we used to give him biscuits. He drinks a lot of coffee. I also drink coffee but I also have my food. So I used to feel bad about that and I used to tell him that he should eat."
Around the release of his movie Zero, Shah Rukh had spoken about when and why his relationship with food changed. On cookery show 9XM Startruck in 2019, Shah Rukh said after his mother's death, nothing was the same. "It's a little psychological for me. My mom used to feed me till I was 25, when she passed away, with her own hands. She would give me dal, chawal, pyaaz, achaar, paapad everything. So once she passed away, I lost interest in food. I am so used to eating the food that my parents used to cook, I never-- not that I'm saying other food is not nice, no food is ever bad--took on to any kind of food. I'm not going to say I miss that food but just that I lost interest," he said. Shah Rukh's parents ran a restaurant in Delhi. Both his mom and dad loved to cook. He said that his father was expert at Pathani-Peshawari cuisine while his Hyderabadi mother made the best biryani.
Shah Rukh said he eats anythithat is given to him but never feels a craving. He eats whatever his team mates or co-stars give him. These include Alia's biscuits.
Shah Rukh will be seen next in Pathaan with Deepika Padukone. It will be his first release after Zero.
Personalise your news feed. Follow trending topics