Vaibhavi Merchant reacts to Besharam Rang controversy: 'Nobody goes to a beach wearing full clothes'
Jan 23, 2023 02:39 PM IST
Choreographer Vaibhavi Merchant reacted to the ongoing controversy surrounding her song Besharam Rang from Pathaan and said 'nobody goes to a beach wearing full clothes', and it made 'sense' for Shah Rukh Khan to roam shirtless.
Choreographer Vaibhavi Merchant addressed the recent controversy surrounding her song Besharam Rang. She said 'nobody goes to a beach wearing full clothes.' She also mentioned that since the song is all about 'sensuality', it made sense for Shah Rukh Khan to enjoy being 'shirtless' on the beach. She talked about the beach party track in great length in a YRF video, giving her perspective around the song. (Also read: Honey Singh on Besharam Rang controversy: 'People have become way too sensitive…')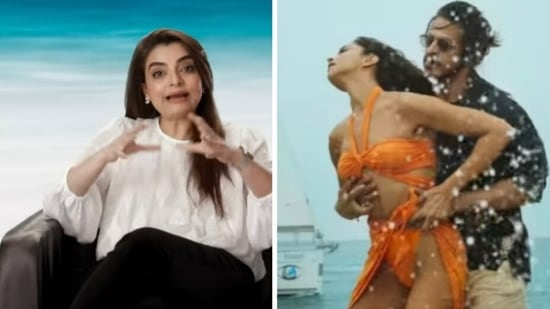 Ever since Besharam Rang, the first official track from Shah Rukh Khan and Deepika Padukone-starrer Pathaan was released, the music video has been receiving a lot of backlash for showing Deepika in a saffron bikini. The song has drawn attention of many politicians, who have termed it indecent and a section of people have even hinted at some communal angle in the costumes of the two prominent actors.
In a video shared by YRF on their YouTube handle, Vaibhavi said, "I was very clear that I did not want it to look like a typical Hindi film beach party song. The song is very languid. It is laid back, it is that of adaa (moves). It does not have ki ab steps daalun iss mai, iss mai bohot saare movements daalun. (It was not about adding steps and movements). Logically, also if the hero met the girl, obviously there has to be a chemistry, chemistry building. He cannot just land up at location, and start dancing. This song was about nuances, about adaa, about sensuality and relaxed in your body. Therefore, it made sense for even Shah Rukh's character to lose that shirt of his and walk out. Nobody goes to a beach wearing fully clothes."
Besharam Rang features Shah Rukh and Deepika Padukone on a beach in Spain. The party song has Deepika in a number of attires but what has drawn the attention of the protesters is one particular bikini, which they allege is saffron and therefore, offends their religious sensitivity.
When Shah Rukh was asked to share his thoughts on Deepika's character from Pathaan, he said, "You need someone of the stature of Deepika to be able to pull off a song sequence like Besharam Rang and then you know, to be able to do action, where she takes a guy and pulls him right over herself and beats him, she's tough enough to do that too. That kind of a combination could have only been achieved with someone like Deepika. It's quite a layered character for an action film heroine so to say." The film is set to release on January 25, 2023 and stars John Abraham along with Deepika and Shah Rukh.