Long ATM queues not for them: 'Moneyless' Kashmir calm over note ban
Updated on Dec 10, 2016 09:39 AM IST
As the rest of the country struggles post-demonetisation, Kashmir is an oasis of calm with no queues at ATMs and banks.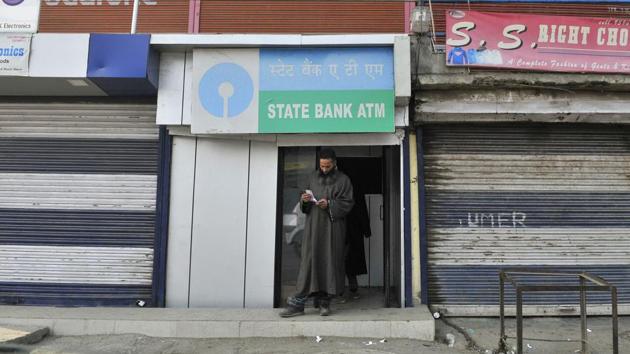 Consider visiting Kashmir if you are desperate for cash. The ATMs here have currency and the queues at most places are no more than 4-5 people long.
Swept by violent protests since the death of Hizbul Mujhahideen commander Burhan Wani in July, the Valley at the moment is an unlikely oasis of calm at a time when the rest of India is in the midst of a cash crunch following last month's demonetisation decision.
"There was a rush on the first two days, but everything is normal now. The queues are nothing like what we see elsewhere in the country," says Aijaz Ahmed, the Sopore branch head of Jammu and Kashmir Bank.
Residents and experts say the absence of any rush, though without parallel, is not surprising.
"People would have taken out money had there been any savings. In the five months of unrest, people could not earn and all savings were exhausted. So, what will people take out?" says Professor Mohi-ud-Din Sangmi, who works at the department of business and financial studies at Kashmir University.
Read | In Parliament and Supreme Court, questions over demonetisation singe govt
Ahmed agrees. "One of the reasons can be the coming to standstill of all economic activities in the unrest. People do not have that much money in their hands," he says.
Mushtaq Ahmed Tantray, an apple trader in Sopore, echoed the same thoughts. "Everything was shut for at least five months. Labourers, traders, businessmen could not work as usual, and hence their savings were depleted," he says.
Though ironical, there is unanimity that the recent protests have had the biggest role behind Kashmir's current calm over currency.
"In Kashmir, there can be a shutdown at any time or the weather can become very bad. So people are in the habit of storing things up to survive at least a few weeks and hence there is no dire necessity to take out cash and purchase essentials," said a senior official at a private bank in Srinagar.
Read | Demonetisation drives Kashmir Valley agitation into hawala dead-end
That the Kashmiri society is 'close-knit' has also helped. Local grocery store owners are known to readily give customers essential items on credit, staving off desperation.
Stepping out of a Sopore ATM, a petty trader explains he withdrew some money as he needed to travel to Srinagar. "Otherwise, in these times of continuous shutdowns and protests, people don't need much to sustain," he says.
"Kashmiris are used to hardships and are normally not overtaken by sudden emergencies," Shuja Ahmed, a Srinagar resident, adds. People cite the examples of the Gujjars and Bakerwal communities who live in places which remain cut off from the mainland for almost six months a year. Kashmiris point out that perseverance is their strength.
Banks, however, are not shying away from taking some credit for the rare "normalcy" that the otherwise troubled state is witnessing. Bank officials say they had prepared well in the aftermath of demonetisation to minimise panic in the state which has 1,900 branches and 1,500 ATMs.
Sajjad Bazaz, spokesperson of the J&K Bank, says they had reached out to people using all platforms of mass communication and conveyed that "there was no need to panic, your money is safe".
But like everything else in Kashmir, even the rare "normalcy" is taking political overtones. People are exchanging old notes to discredit claims by Delhi that "large sums of unaccounted money" fuel trouble in the Valley. Had there been black money, the rush at banks would have been longer, Kashmiris are pointing out with a sense of pride.