Beat the winter blues: Creative and fun activities to enjoy with family
Jan 23, 2023 03:49 PM IST
From movie night to storytelling, check out some fun winter activities that you and your family can enjoy together.
Winter is a magical season that brings with it an array of fun activities that families can enjoy together. As the temperatures drop and the snow begins to fall, it's the perfect time to create lasting memories with your loved ones. Whether you're looking for outdoor adventures or indoor activities, there are plenty of things to do that will keep everyone entertained. Winter is the best time to make memories that will last a lifetime, so don't let the cold weather hold you back. Here are some fun winter activities that you and your family can enjoy together. Get out there and make the most of it with your family! (Also read: Family Time: Best family games to strengthen bonds and for a fun-filled weekend )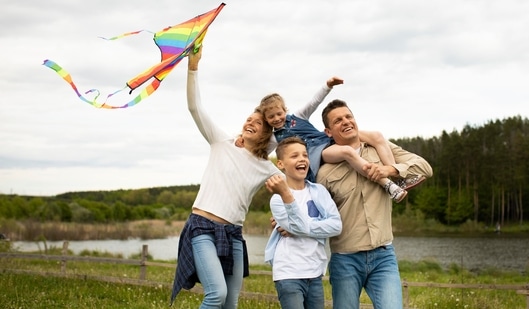 1. Going on a winter hike or nature walk: Take in the beauty of the winter landscape on a hike or nature walk. Look for animal tracks, admire the frosty trees, and enjoy the crisp, fresh air. Make sure to dress in layers and bring snacks and hot drinks.
2. Having a bonfire and roasting marshmallows: Enjoy the warmth and ambience of a bonfire while roasting marshmallows. Make S'mores and enjoy the sweet treat while sitting around the fire and enjoying each other's company.
3. Movie night: Having a movie night with hot cocoa and blankets is a perfect winter activity for every family. Stay warm and cozy inside by having a family movie night. Pick a winter-themed movie, make some hot cocoa, and snuggle up under blankets.
4. Game night: Playing board games or having a game night is a must activity for the family. Board games and game nights are a fun way to spend time together as a family. Set up a tournament and have some friendly competition.
5. Cooking or baking together: Spend some quality time in the kitchen by cooking or baking together as a family. Make a winter-themed recipe, such as gingerbread cookies or a warm stew, and enjoy the finished product together.
6. Reading or storytelling: Encourage a love of literature by reading or telling stories together as a family. Make a cozy reading corner or have a story-telling night with different family members taking turns to tell their favourite stories.
7. Volunteer work: Give back to your community by volunteering as a family. Look for local organizations that need help during the winter, such as soup kitchens or shelters.