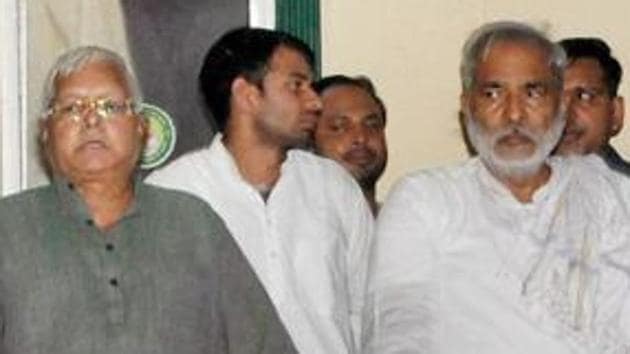 Even Modi supporters will vote for me, says RJD's Vaishali candidate Raghuvansh Prasad Singh
RJD's Vaishali candidate, Raghuvansh Prasad Singh, says that voters in his constituency, having learnt a bitter lesson in 2014, are in a mood to make amends in these parliamentary elections.
UPDATED ON MAY 10, 2019 02:29 PM IST
the Rashtriya Janata Dal candidate from Vaishali Lok Sabha seat in these parliamentary elections. Singh, who piloted the implementation of UPA's flagship programme Mahatma Gandhi National Rural Employment Guarantee Act (MGNREGA), feels that Vaishali voters, having learnt a bitter lesson in 2014, are in a mood to make amends this time. In an interview with Arun Kumar, he talked about his strengths and his rival's bid to confuse voters as he battles it out in a direct Grand Alliance vs NDA contest.
How do you see your prospects this election after the loss in 2014?
I am getting enthusiastic support from people of all castes and creed. Money power of the opponent cannot work this time. Ill-gotten wealth cannot always camouflage false narrative, as people can look through it. It is a classic case of once bitten twice shy in Vaishali after the 2014 election victory of strongman from LJP Rama Singh, who never returned to even see his constituency.
What makes you so confident?
It is the people who are answering this question themselves, but the real thing is not coming in media. I don't have money to give ads. People are asking who Narendra Modi would have voted for had he been a voter here. By Modi's logic, his own vote would have gone against corruption. Modi talks of cleaning politics and the people of Vaishali, world's first republic, will start the cleaning process from here. Politics has witnessed steep fall and I cannot make any compromise with it. I feel even Modi supporters will go by his own logic and vote for me.
Also Read | RJD veteran Raghuvansh Prasad Singh faces challenge from old aide in Vaishali
What about NDA claim of yet another Modi wave?
In fact, the candidate has nothing to show and so there is an attempt to talk about Modi-Modi to confuse voters. The reality is that the NDA candidate, Veena Devi, will not get support even of her own party (LJP) men. People themselves say that they don't want to be taken for a ride again like last time. They are repenting and want to make amends this time.
Your opponents often say you are a right man in a wrong party. Your comment?
Well, the very premise is flawed. How could a party be wrong if it has the right people? Is it that only those hopping and skipping from one ideology to another in search of a ticket and winning arithmetic end up in the right party? Everyone knows here how many parties Veena Devi and her husband Dinesh Singh changed? If they have reached the right party, let them be happy. I am where I am and I will fight election the way I have, as I rely on people's power, remain in their midst and work for them.
What is the biggest issue in Vaishali?
Unfortunately, nobody is talking of issues. Leaders are dishonest and they speak on everything but issues. They try to take the people away from candidates in the name of Modi-Modi. "Don't see the candidate, see Modi," is the common argument. But people have seen the result. Take for example education. It is non-existent and students from poor families are going to Visakhapatnam, Kota, Pune, Delhi and various other places, but nobody is talking about it. Schools have everything but education and students flock to coaching centres for tuition. Agriculture is a big issue as it feeds everyone, but that only gets lip service.
Close