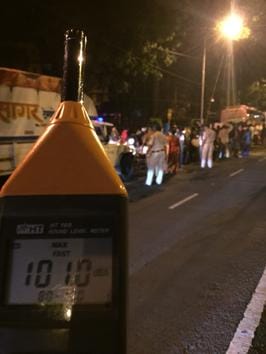 Noisy bikes without silencers give residents of Mumbai's JVLR sleepless nights
Police are monitoring several garages where bikes are modified
UPDATED ON MAY 03, 2018 12:31 PM IST
Residents along Jogeshwari Vikhroli Link Road (JVLR) were forced to endure a cacophony of noise on Wednesday morning, as loud bikes with modified silencers or no silencers at all, made their way along the main road. The disturbed residents said that while police vehicles were monitoring the area, no action was taken against the miscreants.
"This has been a regular feature for the past four years. It is a nightmare as these bikes zip past our homes around 3.30-4am almost every morning… it is extremely chaotic. Children and elderly people get scared and are worst affected as a result of this," said Tasneem Shaikh, resident of Oberoi Splendor at JVLR, who filed three complaints with the police. "Between Tuesday night and Wednesday morning, it was just too much as over 50 bikes went past, one after the other, and the decibel (dB) levels were over 100," she added.
Meghwadi police station said that it was difficult to manage the situation but would be deploying more manpower at the site. "Considering it was Shab e Barat (a night for forgiveness where Muslims offer prayers) on Wednesday morning, the number of such bikes was much higher. With three or four police officers and so many bikes, it becomes extremely difficult to stop everyone, fine them or confiscate they're vehicles. However, based on the complaints, we have escalated the issue to senior officers, and we will at least have 20 police personnel manning the JVLR route from Wednesday night onward," said Saganaji Ghodke, head constable, Meghwadi police station.
"Using bikes without silencers is a clear violation, and our crackdown is underway. We are monitoring several garages in this area where such bikes have been modified, and will be shutting them down soon," said P Patil, senior police inspector, Meghwadi police station.
According to a detailed study carried out by anti-noise campaigners from NGO Awaaz Foundation, many two-wheelers showed average noise levels of up to 90dB while the maximum permissible level is 80dB. When silencers are removed, levels increase to 100dB-110 dB, which is as loud as a discotheque.
Anti-noise activists said this was a problem not just confined to JVLR, but all across Mumbai. "I have received several complaints about this through the year from various parts of the city, which are a major cause of sleeplessness and health issues. Since this is an ongoing problem, these bikes need to be confiscated but on-ground implementation of the law is lacking," said Sumaira Abdulali, convener, Awaaz Foundation.
Close