The time is now to avert a crisis that faces the world
Jan 15, 2023 08:03 PM IST
Among border nations, India is the most stable. We have Pakistan on one side, and Sri Lanka on the other. Both are in poor shape and Pakistan may be on the verge of a civil war
Journalist Fakhar Yousafzai from Pakistan posted that video clip. I got chills seeing this 41-second video. What did it show?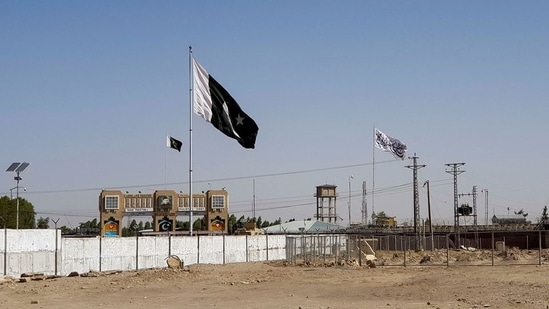 Three people fought over 10kg of wheat flour. The owner of the sack was trying to hold on to it, while the other two tried to relieve him of it. He was pushed to the ground, but managed to hold on to the sack. The man called out for help, but no one came to his aid. Then two children appeared from nowhere to aid the assailants. Such horrible things were not meant for their tiny hands. It makes us think of the Sanskrit proverb Bubhukshitah kim na karoti papam (What sin would a hungry person not commit?).
The army masters and their stooge rulers have completely emptied Pakistan. There is no milk for newborns, no electricity during the harsh winters, hospitals are running out of medicine, and the government is clueless. Shahbaz Sharif is out begging in the West and in Arab countries after overthrowing Imran Khan. But his nation's problems cannot be solved without urgent aid.
Now, 35.7% of Pakistan's population lives below the poverty line; the country is ranked 99 out of 121 nations on the Global Hunger Index. It is in desperate need of foodgrains, despite possessing exceptionally fertile land and agriculture accounting for 19% of its Gross Domestic Product. Pakistan now faces starvation and the threat of civil war.
Some critics have said that while only one part of Pakistan was separated in 1971, there may now be four more in the offing. They are not mistaken. Tehreek-e-Taliban Pakistan has established a parallel government in the border region. In response, the government in power in Islamabad has escalated military operations under the "right to defend for existence" in the "disturbed" districts. America has already given its approval. It won't be surprising if we see the Pakistani air force bombing the region in the coming days.
But will this make things better? Who would believe now that until 1980, Pakistan's economy was stronger than India's? Delegations from Arab and African nations used to visit that country in the 1970s to learn about governance. But things started changing under General Muhammad Zia-ul-Haq. He made the costly decision to wage a covert war with India. Pakistan developed the atomic bomb while he was in power, and it now has a larger nuclear arsenal than India. If Pakistan experiences a civil war or has to deal with fresh divisions, not only India, but the entire world will be in serious trouble. What will happen if the entire nuclear arsenal, or even just a portion of it, falls into the hands of terrorists is a question that is being asked.
It is safe to conclude that Pakistan has long been using this fear to demand aid from wealthy nations. But this time, the menace is significant and the hands of the global community are tied. With Covid and the war in Ukraine, the global economy is weakening.
The consequences are widespread. The Brazilian parliament was taken over by Jair Messias Bolsonaro's followers last week. Now, president Luiz Inácio Lula da Silva's backers have hit the streets. Their rage is well founded. The disorderly demonstrators severely damaged both public property and the dignity of the democratic system. Even Brazil's heritage suffered harm.
Such occurrences have become frequent now. First, Donald Trump's followers stormed Capitol Hill after he lost the US presidential election. In Pakistan, Imran Khan was forced out of office via a legal procedure. Bolsonaro is attempting to set Brazil on fire from his current perch in America. How can those who gained control by democratic methods act like despots after losing?
Happenings in Brazil brings to my mind a June 2009 evening at Yekaterinburg, Russia. Representatives of the ministry of external affairs were attempting to convince mediapersons, including myself, over dinner that the BRICS — Brazil, Russia, India, China, and South Africa — has the most promise for the future. But what actually took place? Brazil has already been discussed; Russia's situation is deteriorating daily, and China is now experiencing an unheard-of economic disaster as a result of its "zero-Covid" policy. Also, the armies of China and India are at loggerheads on the borders. Nobody can predict what will unfold tomorrow.
The only solace in this depressing time is that of among these nations, India is the most stable. We have Pakistan on one side, and Sri Lanka on the other. Both are in poor shape.
Following Colombo, the capture of Brazil's power centre and the deterioration of democratic nations demonstrate that now is the right time to address the looming crisis among many democratic countries. This trend is detrimental to global peace.
Shashi Shekhar is editor-in-chief, Hindustan
The views expressed are personal