2018 Winter Olympics: 'Pyeongchang Gusts' lead to crashes and complaints
The 2018 Winter Olympics slopestyle snowboarding event left several athletes badly hurt and numerous disruptions resulted in logistical nightmares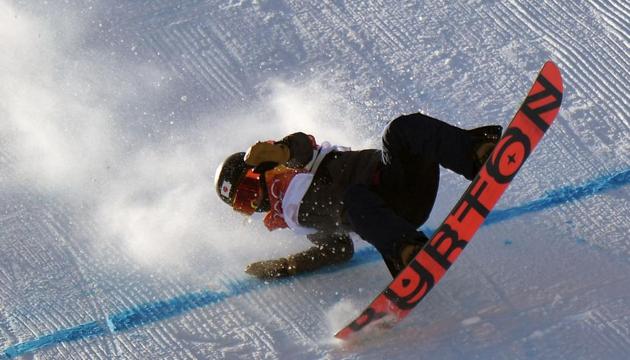 Updated on Feb 12, 2018 04:35 PM IST
AFP, Pyeongchang |
Agence France Presse
Vicious winds caused a string of crashes and complaints as America's Jamie Anderson survived the chaos to clinch her second straight slopestyle snowboarding Olympic gold in treacherous conditions on Monday.
Nearly all the athletes -- including Anderson -- tumbled at some point at Pyeongchang's frigid Phoenix Park, where strong winds forced Sunday's qualifiers to be scrapped and also delayed the final for more than an hour on Monday.
The numerous falls -- none of the athletes appeared to have been badly hurt -- prompted grumbling that the final was allowed to take place at all.
It was just the latest event at the Games to be disrupted by the wind, with the prestigious men's downhill skiing moved to Thursday after falling victim to the weather.
"So many people got hurt because of the wind already," said Austrian snowboarder Anna Gasser, a day after 17-year-old Tess Coady, the youngest member of the Australian team in South Korea, was forced out after wrecking her left knee in training.
"Even yesterday, the practice we did in the morning was dangerous," added Gasser after finishing 15th in the slopestyle.
Gasser called it "a lottery" and said: "I don't think it was a fair competition and I'm a little disappointed in the organisation that they pulled through with it. From my point of view I think it was not a good show for women's snowboarding."
'Huge gusts of wind'
Britain's Aimee Fuller, who finished down in 17th after crashing, branded them some of the toughest conditions she had competed in and said she had "no chance" of landing her last jump when she was caught by one strong gust.
"Conditions today were definitely a challenge. It was for sure not what I wanted, not what I expected, not what I dreamed of for my Olympic final," said the 26-year-old, who was unhurt in the fall.
"There were huge gusts of wind -- I've decided to call it the Pyeongchang Gust."
Anderson, 27, became the first woman to win two Olympic snowboarding golds, despite briefly falling in her final run, with Laurie Blouin of Canada earning silver and Finland's Enni Rukajarvi taking bronze.
But all the talk was about the wind, which coupled with the sub-zero temperatures made life tough for athletes and spectators.
In the build-up to competition, Britain's Katie Ormerod and teenager Coady both suffered Games-ending injuries on the slopestyle course, which features high rails and huge jumps to negotiate in the swirling winds.
Coady ruptured her anterior cruciate ligament (ACL), abruptly ending her first Olympics and leaving her facing several months on the sidelines.
She blamed the wind for the crash, writing on Instagram: "Well Olympics came to a screeching halt today for me... got picked up in the wind on the bottom jump in practice and my ACL was not a big fan!"
Ormerod was sidelined after breaking her heel in training -- after earlier fracturing her wrist on the Pyeongchang course.
Close Story
Personalise your news feed. Follow trending topics