Prime Minister Narendra Modi has instructed ministers and bureaucrats to implement all projects and government schemes by January 26, 2024. He emphasized the need to explain the benefits of the schemes to the people and reach out to voters, stating that voters are becoming more educated. Modi also urged leaders to focus not only on the next general elections in 2024 but also on the broader timeline until India's 100th year of independence in 2047. The meeting discussed capital expenditure, flagship schemes, and budget proposals. The PM also highlighted infrastructure development and making India ready for 2047.

Updated on Jul 04, 2023 12:26 AM IST
Republic Day 2023: This year Republic Day celebration is themed around 'Jan-Bhagidari (participation of people)'

Published on Jan 26, 2023 10:09 AM IST
Republic Day 2023: India is celebrating its 74th Republic Day today with great enthusiasm and grandeur.


Published on Jan 26, 2023 08:31 AM IST
Republic Day 2023: The Delhi Metro train service will remain available for commuters at all stations during the Republic Day Parade on Thursday, DMRC said in its advisory.


Published on Jan 26, 2023 06:06 AM IST
Republic Day 2023: The Parade will begin at Kartavya Path in Delhi at 10am and will display marches by several contingents of the Armed Forces, and tableaus from various state and central departments.

Updated on Jan 26, 2023 07:39 AM IST
Republic Day 2023: Both the nations are celebrating the 75th anniversary of the establishment of diplomatic relations this year.

Updated on Jan 24, 2023 08:00 PM IST
Woman officer, Lieutenant Chetana Sharma will be leading made-in-India Akash surface-to-air missile system at the parade, while Lieutenant Dimple Bhati will be a part of the army's Daredevils motorcycle team.

Published on Jan 23, 2023 09:34 PM IST
Republic Day 2023 Date, History and Significance: India marks its Republic Day on January 26. It commemorates the adoption of the country's constitution in 1950. Know all about its history, significance, and more inside.

Updated on Jan 26, 2023 06:48 AM IST
Republic Day 2023: Major roads in and around Delhi including on the DND flyover and Ghazipur border were affected from the morning rush hours till around 2 pm.

Published on Jan 23, 2023 06:30 PM IST
PTI | | Posted by Shobhit Gupta
Republic Day 2023: The ministry of defence has set up an online portal www.aamantran.mod.gov.in for the people to buy tickets for the Republic Day parade.

Updated on Jan 25, 2023 12:17 PM IST
From tricolour eyeshadow to tricolour glam makeup, let's honour the spirit of our country by including patriotic colours in our make up looks. Check out all the amazing make up ideas inside.

Published on Jan 23, 2023 11:19 AM IST
January 26th is significant for the country's political history as it is the day when the country formally adopted its constitution in 1950.


Published on Jan 23, 2022 02:48 PM IST
Officials said sharpshooters and snipers will be deployed on top of high-rise buildings to keep a watch on the 8-km-long parade route from Rajpath to the Red Fort on January 26.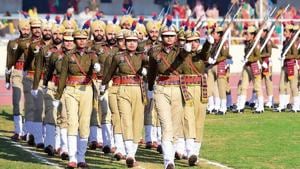 Updated on Jan 25, 2020 11:42 AM IST
Hindustan Times, New Delhi |
HT Correspondent