Latest from rajdhani express
Two major works are underway to this effect—doubling the capacity of overhead power lines between Virar to Ahmedabad and laying of cattle safety walls. This will ensure the current travel time via Rajdhani and Shatabdi express will be cut by two hours.

Updated on Apr 12, 2023 12:35 AM IST
An Australian citizen travelling on Rajdhani Express shared that he loved having the food on the train. He even shared a picture with the train staff.

Published on Feb 15, 2023 03:35 PM IST
Sixteen months ago, on January 6, 2021, the vigilance branch of Railway Board, the apex decision-making body of Railways, suggested there could be a scam in the supply of vacuum toilets, and proposed that M/s Amit Engineering and another company be banned.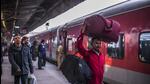 Updated on May 26, 2022 03:07 AM IST
The Mumbai-Hazrat Nizamuddin August Kranti Rajdhani Express train hit the cement pillar near Valsad in south Gujarat. An FIR has been lodged in this connection.

Published on Jan 15, 2022 10:58 AM IST
The Rajendra Nagar–New Delhi Rajdhani Special Express is the second Rajdhani train to have newly upgraded Tejas sleeper coach rakes.

Updated on Sep 01, 2021 07:09 PM IST