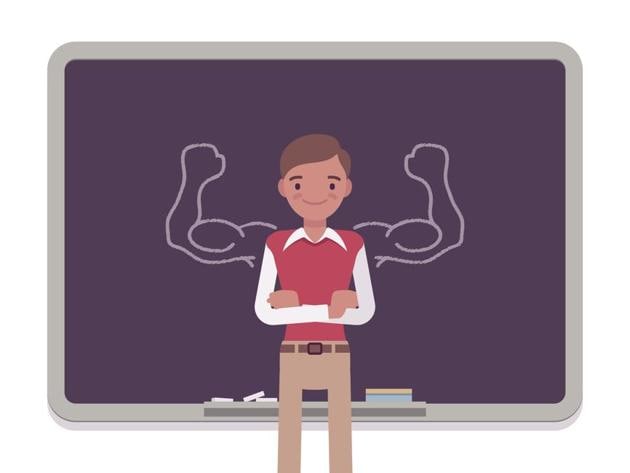 BEd students take up MOOCs, new programmes and workshops to stay updated
New courses with an international outlook are drawing teaching aspirants and experienced teachers.
PUBLISHED ON JAN 27, 2018 08:21 PM IST
Most students go through a phase of wanting to be a teacher, usually inspired by a particularly wonderful instructor or professor. A fair slice do stick with the dream. Nearly 40,000 students signed up for the Bachelor of Education (BEd) degree in 2017, in Maharashtra alone. This allows you to teach at school level; you must pass the National Eligibility Test in your chosen subject in order to become a college professor.
In a time of rapidly changing methods of teaching and learning around the world, however, these fresh graduates and teachers-in-training can feel stuck in courses that haven't changed much in decades. There is little or no reference to technology in the classroom, contemporary methods, evolving student demographics and psychologies. New options are emerging, though.
The 15-year-old Teacher Foundation in Bangalore offers two courses that act as alternatives to the BEd for some schools — The New Teacher, a 16-month full-time course that is accepted as a BEd-equivalent degree; and Teach-Now, a nine-month, eight-module course built on internationally recognised InTASC standards and allows certificate holders to teach in all schools around the world and in India that accept InTASC.
There are also courses to help teachers add to their skills after a BEd, programmes like Oxford University Press's Online Teacher Training and Train 2 Transform Workshops, which adds to their qualification and are valued by schools.
For those looking to build a career and stay updated with international standards, the CENTA certification programme becomes an attestation of additional skill.
LESSONS LEARNT
After teaching maths and physics for 20 years, Jaipriya Balaji, National Public School, Indiranagar, Bangalore, applied to the Centre for Teacher Accreditation (CENTA) last year.
"Students who had gone abroad to study would return with tales of how different their classroom experiences had been. How much creative thinking and application were emphasized," Balaji says. "Though we had worked on our teaching methods at school over the years, it still made me wonder if we matched up, and where we might be falling short."
The Bangalore-based CENTA, launched three years ago, offers certifications of competency for teachers based on theoretical tests and the practical application of techniques learnt over a month. There are three certificates available — New Teacher, for those in the early stages of their career or yet to begin teaching; Experienced Teacher, for those with 3 to 10 years of experience; and Senior Teacher for those with more than 10 years of experience.
A CENTA certificate implies that a teacher's knowledge and methods are up-to-date and that they may assume the role of a specialist teacher in their chosen field. In the short period since its launch, a CENTA certificate already ensures that a teacher's application will be granted priority in institutions run by education companies such as Podar and GEMS.
The truth is that, in a world where most professionals are constantly updating, adding to and honing their skills, teachers do not want to remain stagnant, says Mala Palani, who trains teachers at the Oxford University Press programme.
"Our education system is largely oriented towards finishing the syllabus and less towards actually teaching a child," she says.
But the business of education is changing, and amid growing competition, churn and job uncertainty, teachers want to add to their degrees and certifications.
"Where there was once little space for innovation, teachers are beginning to ask themselves questions like, how can I develop and encourage creative thinking?" Palani says.
NEW APPROACHES
OUP India conducts nearly 1,500 teacher training workshops annually, and has two formal teacher development programmes to impart additional or add-on skill upgrades. Creativity, collaboration and innovation are key modules.
Even with use of modern tools there is a lot of miscommunication, Mala Palani explains. "People think using technology in classrooms means teaching with PowerPoint presentations and using smartboards. But it's also about thinking differently, creating and collaborating. So our modules use exercises to explain this difference by asking teachers to, for instance, set up an online module for their class or create an interactive questionnaire."
A teacher needs to create historians, writers and storytellers. "Not just people with a lot of memorised facts," as Palani puts it.
This belief is shared by the Bangalore-based Teacher Foundation, which offers two diploma programmes for educators. "For instance, we tell our teachers, when you are teaching say Panchayati Raj in a class, instead of teaching it as a series of facts and numbers, present a civic problem and ask the students to suggest how it could be addressed by an administrative body," says Rosama Francis, senior coordinator at Teacher Foundation.
David Singh has taught English at the Metro Delhi International School for four years, and he signed up for the Teach Now course for just such instruction in how to make his classes more interactive and international.
"Considering that I am teaching in an international school, the expectations are of an international approach. Something like ways of identifying a child's problems in learning without being judgmental, teaching subjects in unconventional and contemporary ways," he says.
Asha Narayanan, principal at Lodha World School, Thane, says she took the CENTA certificate course herself because since her MEd degree in 1990, she had had little opportunity to evaluate where she stood. At her school, she adds, she now prioritises applications from teachers who have CENTA, OUP, British Council or other add-on certifications.
"In a fast changing environment for teaching and learning, that is the best way to stay relevant," she says.
Close