IIT JEE Advanced Result 2018 declared, Meenal Parakh is topper among women: Highlights
Updated on Jun 10, 2018 10:01 PM IST
IIT Kanpur declared the results of Joint Entrance Examination (Advanced) 2018 on its official website jeeadv.ac.in on Sunday.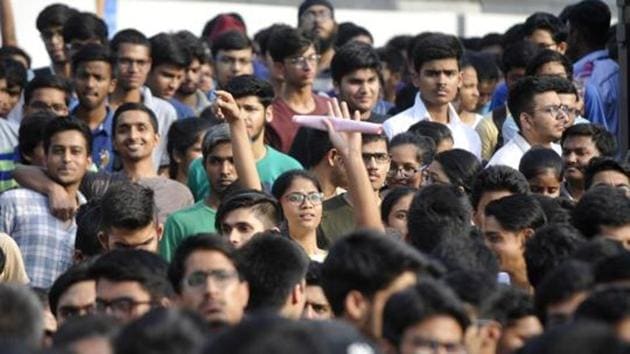 Hindustan Times, New Delhi/Kanpur |
Nilesh Mathur/Haider Naqvi
IIT Kanpur declared the results of Joint Entrance Examination (Advanced) 2018 on its result website results.jeeadv.ac.in on Sunday. The examination for admission to the IITS was held on May 20. This year, 11,279 seats are on offer at 23 IITs across the country. Candidates will know their scores and all-India ranks when the results will be declared.
IIT JEE Advanced result 2018: Here's direct link to check
JEE Advanced result 2018: Here are the live updates
2.19pm: Sarthak Behera of Odisha secures 82nd All India Rank in JEE (Advance) 2018. A total of 6,304 students from Odisha appeared for the Joint Entrance Examination (JEE) Advanced 2018.
1.16pm: Mathematician Anand Kumar's Super 30 has done it again, this time 26 of the 30 students making it to the JEE-Advance for admission to India's premiere IITs.
11.22am: Zone-wise qualified candidates: Maximum 5,072 have qualified from IIT Delhi zone, 3,595 students from IIT Madras zone, 2,936 students from IIT Bombay zone, 2,160 students from IIT Kanpur zone, 1,736 from IIT Kharagpur zone, 1,800 from IIT Roorkee zone, 839 from IIT Guwahati zone
10.57am: Topper of OBC category: Mavuri Siva Krishna Manohar, Vijaywada, IIT Madras zone; Topper of SC category: Aayush Kadam, Kota; Topper of ST category: Jatoth Shiva Tarun, Hyderabad
10.50am: Following are zone wise top rankers
IIT Bombay Zone: Rishi Agarwal, roll no 1***368, CRL 8
IIT Delhi Zone: Sahil Jain, CRL 2, roll no 2***089
IIT Guwahti Zone: Prashant Kumar, CRL 150, roll no 3***037
IIT Kanpur zone: Ayush Kadam CRL 78, Roll no 4***134
IIT Kharagpur zone : KVR Hemant Kumar Chodipilli, CRL 5, roll no 6***492
IIT Madras zone: Mavuri Siva Krishna Manhohar, CRL 5, 6***492
1030am: Meenal Parakh roll no 2***002 is the female topper. Her common ranking list in JEE is 6, she got 318 marks of 360.
10.27am: Pranav Goyal, roll number 7***035 has topped the JEE advance, he has obtained 337 marks out of 360 marks. Goyal is from IIT Roorkee zone.
1023am: Total 155158 students appeared in JEE Advance 2018, 18138 students have qualified the JEE advanced, This 1.6 times more than the number of the seats being offered, total 11,279 seats are being offered in 23 IITs in the country.
10.20am: Kota region students grabs AIR 2 and AIR 6 in JEE Advanced 2018, AIR 6 is also Topper of Girls category
9.55am: JEE advanced 2018 results declared
9.38am: A student of Carmel Convent, Bhopal, Krati Arela said on Saturday, "I am excited as well tensed for my IIT JEE advanced result because I never thought of anything other than engineering. I am trying to release my stress by reading books of my favourite authors."
913am: Rohit Parashar (17), an aspirant from Bihar who is studying for the exam in Kota, said on Saturday,"Although I have done my assessment through answer keys, I can't help but feel anxious ahead of the declaration of results on Sunday," . "I have been preparing for IIT-JEE here for the last two years. I hope to get a good rank." Parashar said he will decide on his branch and institute after getting the results.
8.51am: JEE Advanced result 2018 to be declared soon
*Candidates will have to register for choosing seats and give their preferred options under the Joint Seat Allocation Authority which will begin on June 15.
*Candidates who appeared for the Architecture Aptitude Test can fill their choices starting June 18 after the results are declared.
*The Joint Seat Allocation Authority will announce the first seat allotment on June 27. The final allotment for the seventh round will be announced on July 18.
*The website of the Joint Seat Allocation Authority-2018 (jossa.nic.in) was launched on Wednesday, JEE chairman, professor Shalabh said in a statement.
*To help candidates understand the counselling process, there will be two mock allotments on June 19 and 24. Candidates can rectify their choices until June 25, which is also the last date for registration.
*Admission to IITs are conducted in two stages. The Central Board of Secondary Education (CBSE) first conducts Joint Entrance Examination (Mains). Thereafter, candidates who secure all-India rank up to 2,24,000 appear for JEE (Advanced), which is conducted by one of the IITs.
*The mains exams are held in a single day over two paper, with each paper being of 180 marks, containing 60 marks for Physics, Chemistry and Mathematics. This year, IIT Kanpur conducted JEE (Advanced).
*Recently, the Gujarat High Court refused to stay the results of the 2018 JEE (Advanced) examination scheduled to be declared on June 10, saying the announcement of the results has all India ramification
*Here's how to check JEE Advanced 2018 results:
1)Visit the official website of JEE advanced 2018 at jeeadv.ac.in
2)Click on the link for JEE advanced 2018 result
3)Enter the required details
4)Click on submit
5)The result will be displayed on the screen
6) Download the scorecard
Close Story
Personalise your news feed. Follow trending topics