Merging healthy and tasty with Lauki Kofta curry. Chef Kunal Kapur shares recipe
Jun 28, 2022 07:00 PM IST
Here's a super fun and easy recipe to prepare Lauki Kofta curry at home and relish it with your near and dear ones. Check out the recipe here.
Lauki, also known as bottle guard, is known as one of the most versatile vegetables that comes with a range of health benefits. Lauki helps in controlling the weight by promoting weight loss. It also helps in preventing sleeping disorders and boosting digestion. Having bottle guard on a regular basis helps to manage the cardiovascular health and prevent the premature greying of hair. It als helps in preventing sleeping disorders.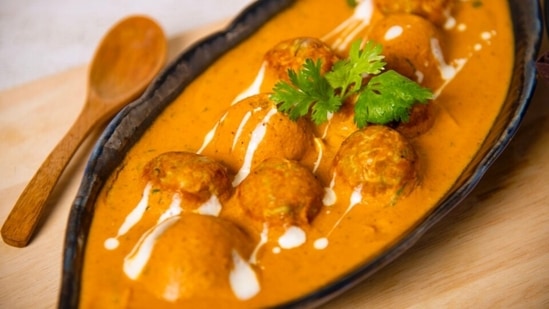 Lauki kofta is a tomato-based curry with small koftas made with lauki and a range of flavours. Chef Kunal Kapur shared a delicious recipe of lauki kofta curry which can be prepared at home and enjoyed with family. Take a look at the recipe here:
ALSO READ: Creamy, delicious Lahori Malai Kofta proves flavours know no borders
Ingredients:
For Curry:
Tomato, Quartered – 2 cups or 500gms
Onion, Roughly Cut – 1 cup or 250 gms
Peanuts – 15 pc
Cashew Nuts -12 pc
Cardamom – 3 pcs
Tej Patta – 1 pc
Black Cardamom – 1pc
Laung - 5 pc
Saunf – 2 tsp
Chilli Powder -1 tsp
Turmeric – ½ tsp
Coriander Powder – 1 tbsp
Garlic – 6 cloves
Ginger, Roughly Cut – 1 inch pc
Butter – 1 tbsp
Water – ¼ cup
Salt – to taste
For Kofta:
Lauki – 1 pc or 600gm
Water – For Boiling
Salt– 2 tbsp
Cold water – To Cool the lauki
Paneer mashed – ¼ cup
Green chilli, Chopped – 1 tsp
Ginger, Chopped – 1 tsp
Roasted cumin – ½ tsp
Coriander, Chopped – 1 tbsp
Onion, Chopped – 1 tbsp
Bhuna Besan – ¼ cup or as needed
Salt – to taste
Pepper powder – a pinch
Oil – for Frying
For Finishing of the curry:
Butter – 1 tbsp
Ginger, Chopped – ½ tsp
Green Chilli, Chopped – 1 tsp
Kasoori methi – ½ tsp
Green Chilli, Slit – 1 pc
Sugar – a pinch
Cream/Malai – ¼ cup
Coriander, Chopped – 1 tbsp
Method:
In a pressure cooker, add tomatoes, onions, peanuts, cashews, cardamom, bay leaf, black cardamom, cloves, fennel seeds, red chilli powder, turmeric, coriander powdered, ginger, garlic, salt, butter and a dash of water and cook in high flame for one whistle. Reduce the flame then and cook for two more whistles. Then take the gravy and remove the bay leaves. Add it to the grinder and mix to a fine blend. In a pan, heat butter, ginger and green chillies. Sieve the gravy and add it to the pan, stir this well. Cook on simmer for about 10-12 minutes. Then add kasoori methi, slit green chilli and a pinch of sugar. Mix well and keep this aside. Peel the lauki and grate it. Boil it with water and salt. Take it out and put in cold water to cool it down and remove the extra water. Then add lauki, add grated/mashed paneer, green chillies, ginger, roasted cumin, coriander, onion, roasted besan and salt. Form small balls with the mixture and fry on medium heat. Place them on paper towels to remove the extra heat. Add cream and fresh coriander to the gravy and place the koftas on top and pour more gravy on the top. Garnish with cream and coriander sprigs and serve hot.