Indian student bags Germany's Green Talents Award
Updated on Nov 24, 2015 08:35 PM IST
Kumar's thesis focuses on 'species-level classification and biophysical characterisation of mangroves using hyperspectral remote sensing'.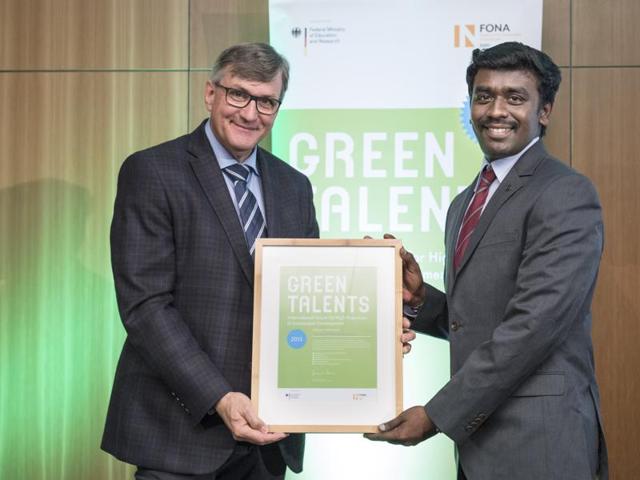 Arun Prasad Kumar (27) currently pursuing a PhD in Earth Remote Sensing and Geo-Information, Technology from the department of earth and space sciences of the Indian Institute of Space Science and Technology is the only Indian among the 27 winners from more than 90 countries to bag a 'Green Talents Award' at the 7th Green Talents 2015.
Green Talents - International Forum for High Potentials in Sustainable Development, hosted yearly by the German federal ministry of education and research (BMBF), calls for applications from all over the world from young visionaries to come up with innovative concepts to make the planet sustainable.
Kumar's thesis focuses on 'species-level classification and biophysical characterisation of mangroves using hyperspectral remote sensing'. "Survival of mangroves and coastal ecosystems are important to reduce carbon dioxide in our atmosphere which ultimately leads to greener environment. Mangroves act as natural barriers or buffer zones against natural disasters such as storm surges, tsunamis and strong winds. Mangroves have very strong and complex root system which attaches to the soil very strongly and protects the people living near it. Such root systems also prevent coastal erosion," says Kumar. The thesis also incorporates socio-economic awareness initiatives to give more insight to the local community regarding the benefits of mangroves and to implement conservation activities in the study area.
As the part of the application process, Kumar was asked to fill in his personal information, details of his scientific background, scholarships/ awards and honours to his credit, research experience, publications list and his motivation for research. "We had to write about the prospects and perspectives of our research work in sustainability and how we relate our work to sustainability research in Germany."
"As my research is closely related to the environment and sustainable development, I feel it helped me to be successful in the selection process. The proposal regarding our research problem and motivation to apply for Green Talents event that we submitted was really important. We had to relate our work with ongoing research in our field in Germany and had to mention that how our work would contribute to their research," Kumar added.
Kumar has largely worked in the Bhitarkanika National park located in Kendrapada district in the northeastern part of Odisha. "I had presented a summary of the research work I had done in the last four years in my online application and submitted the online application on June, 2015."
The screening and selection process were handled by a panel of jury members deputed by Federal ministry of education and research and winners were communicated through mail on August 12, 2015. "But we were asked by the organisers not to publish regarding the award in any website, news or social media till the official announcement was made from their end on October 18, 2015."
The welcome party for all these 27 winners was arranged in "Leonardo Royal Hotel" in Dusseldorf on October 18, 2015. All the winners were asked to make a poster presentation on the first day of the scientific forum on October 18, 2015. On that day all the 27 winners had presented the summary of each of their work. "I took two weeks getting things ready for that presentation prior to the forum," says Kumar.
While in Germany Kumar visited several Companies (Henkel, ThyssenKrupp steels etc) and Research Organisations (KompetenzZentrum - Wasser Berlin, Fraunhofer FOKUS, TU Berlin, Ecologic Institute Berlin) that made him realise how serious the companies were about environmental issues and how intensively they pursued research in sustainable development and environmental policy making. "As a part of a scientific tour, they took us on city tours in Berlin and Dusseldorf which was actually a great experience to explore their culture, food and customs."
Kumar was presented the award signed by the Federal minister for education and research, Government of Germany. As one of the winners, he also attended a full two-week programme during October 17 to October 31 this year and now has an opportunity to go back to Germany for a fully-funded research stay for three months in any German university / institution, company or organisation in the following year. "We have been given time to decide the host and organisation where we can do our research stay next year. We have to inform "Green Talents" organisers about our host and time of our research stay a month prior to that. I have to start my research stay before December 31, 2016."
Kumar is at present working on his research study which will be finished by February 2016 and it takes another three to four months for its evaluation. So after evaluation once his research work is published he will go to Germany for further research depending on the evaluation results. He would work on which university to go in Germany post February 2016 once free from his research study, he says.
Personalise your news feed. Follow trending topics