Ghaziabad, Noida most polluted in NCR, no good air day in last 5 months
Updated on Apr 09, 2018 11:17 PM IST
Dust from ongoing construction sites and polluting industries and largely to blame for the worsening air quality in the two cities, say experts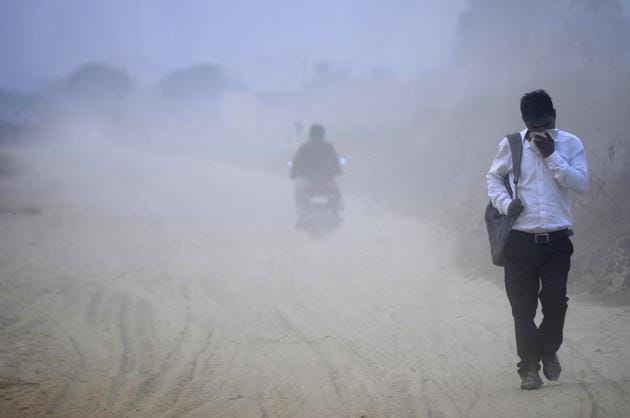 Hindustan Times |
, Noida
Snehil Sinha
Noida and Ghaziabad have not seen a single 'good' air day in the past five months, according to data released by the Central Pollution Control Board (CPCB).
Since November, the air quality index for both cities has been between 'moderate' to 'severe'. There has been just one 'satisfactory' day in Noida and none in Ghaziabad during the period when the air quality was between 51 and 100. The data also shows that the air quality in these two cities have been the worst among all seven cities in the NCR — Delhi, Gurgaon, Faridabad, Alwar, Bhiwadi, Noida and Ghaziabad. The air quality is monitored by the CPCB at 23 monitoring stations.
According to reports, Ghaziabad fared the worst on the air quality index (AQI) in NCR at an average of 399 in November 2017, 401 in December, 403 in January 2018 and 289 in February. The air quality ranged between 'poor' and 'severe'. Similarly, the average air quality of Noida was 367 in November 2017, 344 in December, 317 in January and 266 in February — rated 'very poor' category, just behind Ghaziabad.
Even neighbouring Delhi, which twice topped the list of UN's most polluted cities, had better reports in all these months. On an average, Alwar reported the best air quality among these seven cities.
Daily reports also show that the AQI for both Noida and Ghaziabad have remained in the 'poor' to 'severe' category, barring a few days in February when the air quality was rated 'moderate'. Such poor air quality can lead to breathing discomfort, especially people suffering from asthma, heart diseases and respiratory ailments.
Read I Air quality in Noida 'severe', authorities clueless on mitigating pollution
Officials from the Uttar Pradesh Pollution Control Board (UPPCB) said that the pollution levels in these two cities now is much lower than what was reported in the past few years.
"We take action on a regular basis, especially against the industrial sector. Loni is a problem area for us as there are many polluting industries situated in residential areas. This is illegal and we regularly conduct raids and seal them," Ashok Tiwari, regional officer of UPPCB, Ghaziabad, said.
In Noida, the major concern is that of dust from polluting industries as well as ongoing construction. While the NGT has also issued strict guidelines, several developers do not follow dust control measures at the construction sites and during transportation of construction material.
"Limiting industrial pollution is in our hands, as we can monitor and penalise the polluting industries. However, construction and vehicular pollution is not in our control as they are scattered and difficult to track. In these cases, we take immediate action based on complaints and reports," RK Tyagi, regional officer, Noida, UPPCB, said.
Close Story
Personalise your news feed. Follow trending topics