Police said there was a dispute over a piece of land between Brahmadev Yadav, a resident of Simrahi and Durganand Yadav, a resident of Ghoraha Bishanpur

Updated on Apr 25, 2023 04:24 PM IST
Qamrul Hoda had opened his party AIMIM's account in Bihar assembly in 2019 by winning Kishanganj seat in a bypoll

Updated on Apr 22, 2023 09:25 PM IST
The earthquake was epicentred 10-km below the ground near Purnia, according to the National Center for Seismology

Updated on Apr 12, 2023 10:58 AM IST
The CCTV footage shows a passenger trying to board a moving train, after which he slipped and one of his legs got stuck in the gap between the train and the platform. He was dragged by a few feet before the RPF personnel rushed and saved the man.

Published on Jan 05, 2023 03:22 PM IST
There has been no report so far of valuable items being found in the graves, but locals say many graves located across four cemeteries have been destroyed. Out of more than 250 such graves, about 200 have been vandalised, according to locals and experts.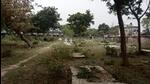 Updated on Apr 21, 2022 01:18 AM IST