Latest from gauri lankesh
Gauri Lankesh was assassinated outside her home in Rajarajeshwari Nagar on September 5, 2017, as she was about to enter her home after returning from work.

Published on Oct 07, 2022 06:11 PM IST
The case came up before an in-charge judge of the special court for Karnataka Control of Organised Crimes Act, (KCOCA) cases which is hearing the trial.


Published on Sep 06, 2022 10:17 AM IST
Lankesh, a journalist and activist, was shot dead on the night of September 5, 2017, in front of her Rajarajeshwari Nagar home in Bengaluru.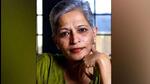 Updated on Jul 05, 2022 01:40 AM IST
Justice CM Joshi, who is presiding over the special Karnataka Control of Organised Crimes Act (KCOCA) court that is hearing the case, set the guidelines for the trial on Friday.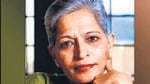 Updated on May 28, 2022 02:21 AM IST
Kavitha Lankesh insists that accused Mohan Nayak, according to an SIT probe, is part of a 'syndicate' responsible for multiple instances of organised crime, including the murder of her sister, as well as those of other activists such as Narendra Dabholkar and Govind Pansare.


Published on Sep 08, 2021 06:51 AM IST
The little known Sanatan Sanstha is popular with young people, mainly in Western Maharashtra and claims it is a spiritual organisation although the investigators assert its alleged members were behind several killings.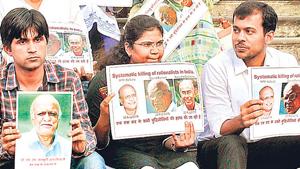 Updated on Sep 06, 2018 07:32 AM IST