During the meeting, Shoigu conveyed to Kim a "warm and good letter" signed by Russian President Vladimir Putin, KCNA said.

Published on Jul 27, 2023 08:18 AM IST
Nuclear-armed North Korea has been testing various weapons including its biggest intercontinental ballistic missile, ramping up tension with the South.

Published on Jun 26, 2023 06:32 AM IST
Essentially, the 155 mm round is a very big bullet, made up of four parts: the detonating fuse, projectile, propellant and primer.

Published on Apr 23, 2023 10:55 AM IST
AP | | Posted by Yagya Sharma
Money Heist Korea teaser: Professor leads Tokyo and his other masked robbers for a heist amid North Korea and South Korea's reunification. Watch twist here.

Published on May 20, 2022 05:46 PM IST
Moon also said that the declaration should establish a peace regime in the Korean Peninsula and put an end to the "quite unstable" armistice, stressing that it was important to initiate talks between North and South Korea and between the US and North Korea.

Published on Dec 14, 2021 12:07 AM IST
The exhibition, hosted by the Korean Cultural Centre India (KCCI) in New Delhi, also marks the 71st anniversary of the War, and showcases the joint efforts of Indian and Korean troops, using 32 archived photographs.


Updated on Jul 04, 2021 11:12 PM IST
PTI | | Posted by Shankhyaneel Sarkar
, New Delhi
After shaking hands with Kim over the line that marks where their two countries and their allies fought each other to a standstill in the 1950-53 Korean War, Trump walked for several steps into North Korean territory, before another handshake.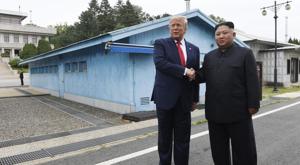 Updated on May 26, 2020 09:33 PM IST
Panmunjom |
Agence France-Presse
Millions of people were swept apart by the 1950-53 Korean War, which left the peninsula split by the impenetrable Demilitarized Zone (DMZ) and separated brothers and sisters, parents and children and husbands and wives.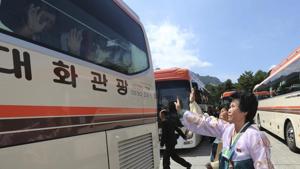 Updated on Aug 22, 2018 12:58 PM IST
Seoul |
Agence France-Presse
Kim Jong-un sent a letter to Trump in mid-July in which the North Korean leader said he hoped there would be a second meeting between the two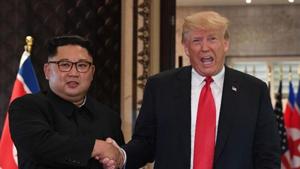 Updated on Aug 02, 2018 04:57 PM IST
Post the Trump-Kim summit in Singapore, North Korea's handling of the changes and how it presents them to its people remains highly nuanced.So far, it hasn't said much about what Washington is interested in the most — denuclearization. But it has made significantly fewer references to its need to have nuclear weapons than it was making last year.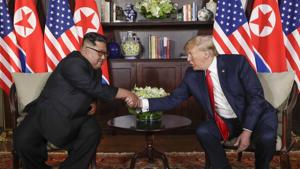 Updated on Jun 25, 2018 03:31 PM IST
Kim Jong-un and Moon Jae-in had pledged to work towards "complete denuclearisation of the Korean peninsula", and seek to declare an end to the 1950s Korean War and establish a permanent peace.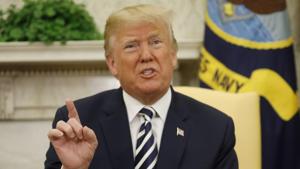 Published on Apr 27, 2018 06:22 PM IST
North Korean leader Kim Jong-un and South Korean President Moon Jae-in held a landmark summit Friday after a highly symbolic handshake over the Military Demarcation Line that divides their countries.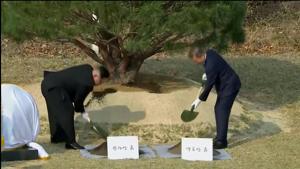 Updated on Apr 27, 2018 02:18 PM IST
South Korea's Moon greeted North Korea's Kim at the military demarcation line, making Kim the first North Korean leader to set foot in the South since the 1950-53 Korean War. Kim then invited Moon to step briefly across the demarcation line into North Korea.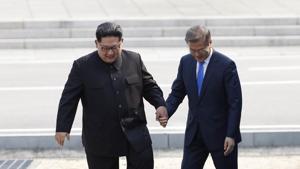 Updated on Apr 27, 2018 11:22 AM IST